Introduction PMS LiQuilaz II E Series Laser Particle Counter
The LiQuilaz II E15P, E20, and E20P laser particle counters (LiQuilaz II E Series) are volumetric monitors with sizing sensitivities from 1.5 – 125 µm.
LiQuilaz II laser particle counters provided by Particle Measuring Systems – USA, the same levels of accuracy, reliability and repeatability that customers have trusted for many years. LiQuilaz II sensors feature both RS-485 and Ethernet network communications. The new Ethernet capability increases product flexibility and makes installation significantly easier.
Volumetric liquid particle counters offer the highest precision possible by measuring 100% sample volumes so that short sampling intervals can be utilized without sacrificing statistical significance.
Particle Measuring Systems (PMS) sets the standard for cleanroom contamination monitoring. With more than 60 patents, we create the technology that enables you to make fact-based decisions, improve process yield and comply with changing regulatory requirements.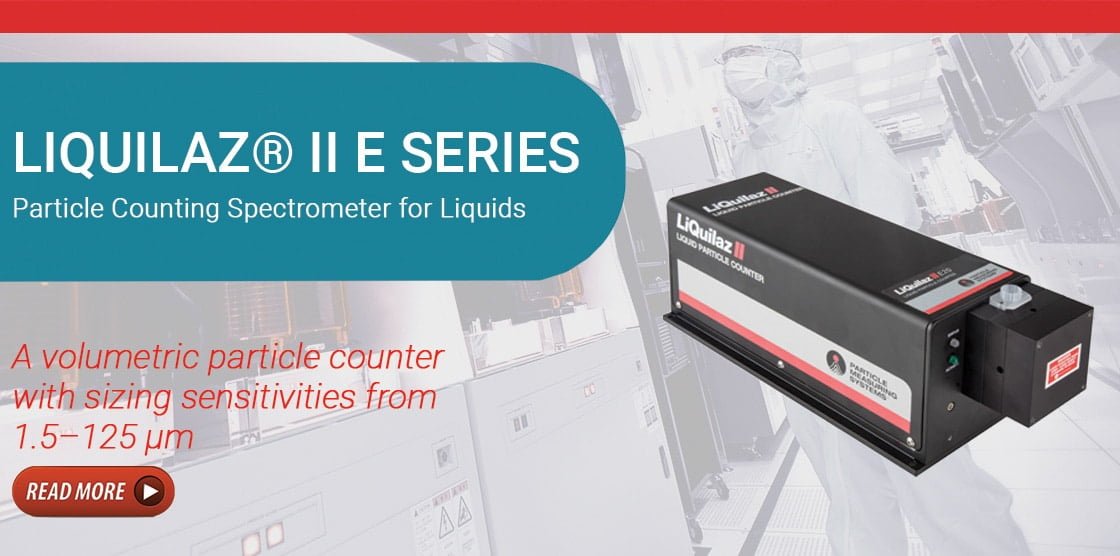 Features LiQuilaz II E Series
Particle counting sizing sensitivities from 1.5 – 125 µm
15 user-adjustable sizing channels
Volumetric: 100% view volume
Facility Net, SamplerSight, PharmaceuticalNet, or SamplerSight Pharma software
Compact system
Compatible with 3rd party systems using RS 485 Modbus protocol
Benefits LiQuilaz II E Series
Yield Improvement
Real-time characterization and analysis of particle concentration for immediate response to particle contamination
Optional software makes process control easy by providing alarm settings, status conditions, sampler setup, and online help
Volumetric measurements provide greater accuracy for tighter process control
Versatile
Supports a wide range of applications and fluids
E15P, E20 and E20P laser particle counters are available for online use
E15P and E20 are available for use with syringe samplers
Online and batch sampling capabilities
RS-485 and Ethernet networking compatibility
Ethernet TCP/IP communication
Supports 21 CFR Part 11 in combination with SamplerSight Pharma software
Easy to Use
Small footprint for easy placement anywhere in the process
Flexible software provides numerous viewing options for real-time or retrieved data
Applications
Pharmaceutical WFI, PW performance verification
Medical device cleanliness testing
Parenteral sampling
Detect abrasive particles
Continual process improvements
USP 788-1788 compliance with the SLS sampler family