Specifications Lutron AM-4203 Digital Anemometer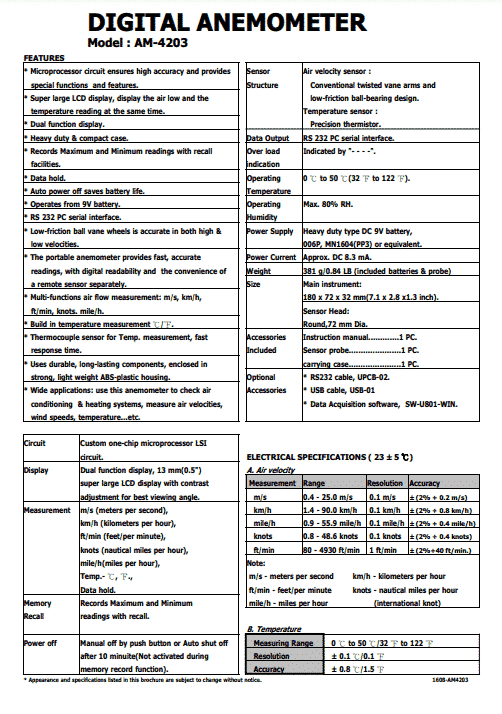 Introduction Lutron AM-4203 Digital Anemometer 
Lutron AM-4203 Digital Anemometer features a microprocessor circuit that provides special functions and high accuracy and features. Its low-friction ball vane wheels are accurate in both high and low velocities. The unit features multi-functions for air flow measurement. Its large LCD display offer clear readings. This anemometer can be used to check air conditioning and heating systems, measure air velocities, wind speeds, temperature and more.
Features Lutron AM-4203
Microprocessor circuit ensures high accuracy and provides special functions and features.
Super large LCD display, display the air low and the temperature reading at the same time
Dual function display.
Heavy duty & compact case.
Records Maximum and Minimum readings with recall facilities.
Data hold.
Auto power off saves battery life
Operates from 9V battery.
RS 232 PC serial interface.
Low-friction ball vane wheels is accurate in both high & low velocities.
The portable anemometer provides fast, accurate readings, with digital readability and the convenience of a remote sensor separately.
Multi-functions air flow measurement: m/s, km/h, ft/min, knots. mile/h.
Build in temperature measurement °C/°F
Thermocouple sensor for Temp. measurement, fast response time.
Uses durable, long-lasting components, enclosed in strong, light weight ABS-plastic housing.
Wide applications: use this anemometer to check air conditioning & heating systems, measure air velocities, wind speeds, temperature…etc.
Lutron Brand
Lutron Electronic Enterprise Co., Ltd. was established in 1976 and has been the Taiwan's leading manufacturer in the fields of Test & Measurement Instruments for more than 40 year. Lutron Electronic Enterprise Co., Ltd have devoted ourself to launch the most comprehensive and professional instruments to the markets, and almost 95% of our products are exported to over 80 countries in the world.