SPECIFICATIONS MILWAUKEE M18 PS HJ2 M18™ POWER SOURCE
Introduction Milwaukee M18 PS HJ2
The M18™ Power Source (M18 PS HJ2) from Milwaukee® helps you power eletronic devices like cell phones, mp3 players, digital cameras, … by using the Milwaukee M18 battery. It's compatible with both the standard model and XC™ M18 batteries. So you can use it for several different types of tools. This power source also has a USB port so you can plug in your smartphone or media player while you work. You can also use it with select models of the M12™ heated jacket that include expandable battery pockets. The unit is compact enough for you to be able to take it virtually anywhere and store it away when it's not in use.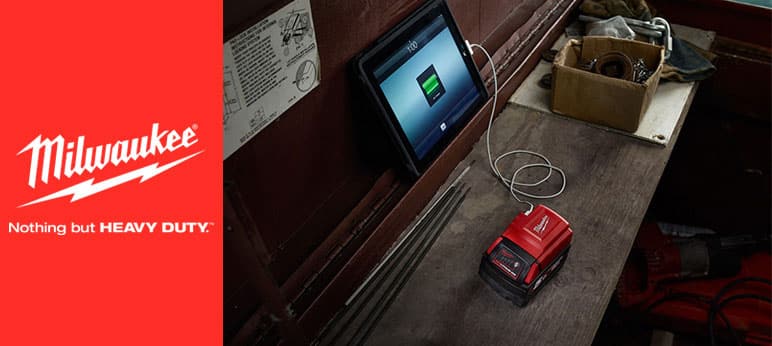 FEATURES
– Milwaukee M18 power source charges cell phones on the jobsite
– Compatible with standard and XC batteries
– Milwaukee jobsite power source features a USB port for charging MP3 players and phones
– Also works with M12 heated jackets with expandable battery pocket options
– Delivers 18 hours of warmth when used with an XC Milwaukee M18 battery
– Compact for easy storage and transport
Milwaukee Brand
Since the company began in 1924, Milwaukee Tool has led the industry in developing innovative solutions that deliver increased productivity and unmatched durability for professional construction users. Whether it is through our world-leading M12™ and M18™ cordless systems, the ground-breaking performance of our M12 and M18 FUEL™ products, jobsite lighting, time-saving accessories, or innovative hand tool and storage products, Milwaukee are dedicated to delivering a continuous flow of advanced, trade-specific solutions. We have invested the time to work side-by-side with real users to understand the demands of a constantly changing workplace and how we can best deliver solutions for a safer, more productive jobsite. Milwaukee Tool is not simply a manufacturer – Milwaukee are progressive problem solvers.