SPECIFICATIONS MILWAUKEE M12 FRAIWF12-0 FUEL™ RIGHT ANGLE IMPACT WRENCH WITH FRICTION RING (Milwaukee 2565)
Battery pack capacity (Ah): No batteries supplied
Battery type: Li-ion
Impact rate (IPM): 0-1350/ 0-2700/ 0-3600
Max. bolt diameter: M16
Max. fastening torque (Nm): 270
Max. torque (Nm): 270
No load speed (RPM): 0-1150/ 0-2300/ 0-3000/ 0-3000
Nut-busting torque (Nm): 300
Tool reception: ½″ square
Voltage (V): 12
Weight with battery pack (EPTA) (kg): 1.7 (M12 B4)
Introduction Milwaukee M12 FRAIWF12-0
Our M12 FUEL™ 1/2″ Right Angle Impact Wrench w/ Friction Ring (M12 FRAIWF12) is the industry's most powerful right angle impact wrench. You'll be able to easily remove stubborn bolts and fasteners with up to 220 ft-lbs. of nut-busting torque without kickback. This Milwaukee 2565 also gives you maximum access with ultimate control in hard to reach applications. Our durable cordless impact wrench easily fits into tighter spaces than traditional pistol-grip impact wrenches with a profile head of only 2.2".Milwaukee 2565 allows you to be more productive by decreasing your need for socket extensions often used with pistol-grip impact tools.
The 4-Mode Drive Control delivers unmatched control in various fastening and bolt removal applications. Modes 1-3 provide RPM and IPM adjustments for maximum precision, and Mode 4 is equipped with Auto Shut-off in forward and Bolt Removal Mode in reverse. Our Auto Shut-off Mode will prevent over-tightening of bolts by applying no more than 15 ft-lbs. of torque. Bolt Removal Mode provides more control by drastically slowing down RPMs once the bolt is loosened.
The REDLINK PLUS™ Intelligence ensures you achieve maximum performance and protection against overloads, over-heating, and over-discharge. This cordless 1/2" impact wrench is powered by MILWAUKEE® M12™ REDLITHIUM™ Battery Packs (not included), which are compatible with all M12™ tools, delivering more work per charge and more work over the life of the pack.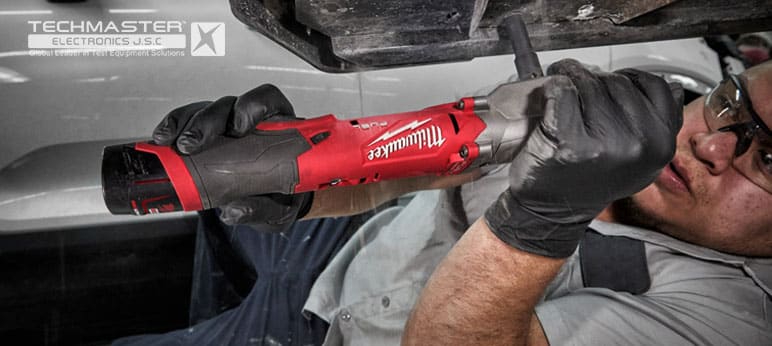 Features
– Delivers up to 270 Nm fastening torque and 300 Nm nut-busting torque
– 4-Mode DRIVE CONTROL includes Auto Shut-Off Mode and Bolt Removal Mode which prevents over-tightening and provides more control after bolt breakaway
– The long body profile allows for more access in hard to reach spaces
– Only 71 mm head with anvil profile design allows for more access in tight spaces
– ½″ anvil with friction ring for quick and easy socket changes
– Bright LED workspace illumination
– Premium rubber overmold withstands corrosive materials and provides increased comfort when in use
– Integrates three MILWAUKEE®-exclusive technologies – the POWERSTATE™ brushless motor, REDLITHIUM™ battery pack and REDLINK PLUS™ intelligence hardware and software – which deliver outstanding power, run time and durability on the jobsite
– Flexible battery system: works with all MILWAUKEE® M12™ batteries
Milwaukee Brand
Since the company began in 1924, Milwaukee Tool has led the industry in developing innovative solutions that deliver increased productivity and unmatched durability for professional construction users. Whether it is through our world-leading M12™ and M18™ cordless systems, the ground-breaking performance of our M12 and M18 FUEL™ products, jobsite lighting, time-saving accessories, or innovative hand tool and storage products, Milwaukee are dedicated to delivering a continuous flow of advanced, trade-specific solutions. Milwaukee Tool is not simply a manufacturer – Milwaukee are progressive problem solvers.