INCLUDES OF MILWAUKEE HOLE DOZER DOOR LOCK HOLE SAW KIT
• Two (2) Hole Saws: 1″, 2-1/8″
• One (1) Arbor with Pilot Bit: 49-56-7010
• One (1) Adapter: 49-56-6560
• One (1) Spacer: 49-67-0120
Introduction Milwaukee Hole Dozer Door Lock Hole Saw Kit
Our HOLE DOZER™ Door Lock Hole Saw Kit features a new 3.5 TPI tooth design that offers users the longest life in metal applications. These MILWAUKEE® HOLE DOZER™ Bi-Metal Hole Saws feature the industry's only Lifetime Tooth Break Warranty and can take on all general purpose applications, making them the most durable hole saws. Our ALL-ACCESS SLOTS solve the frustration of plug removal, making you more productive with less downtime between holes. The new slot design also gives you increased pilot visibility for accurate placement and faster chip ejection keeping your cut cool. HOLE DOZER™ Thermoset Coating allows for faster cutting and is optimized for cordless tools, delivering you 25% more holes per charge. Our HOLE DOZER™ Bi-Metal hole saws are proudly made in the USA.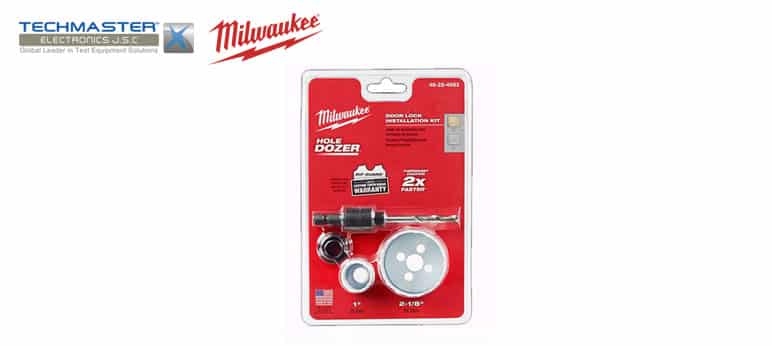 FEATURES Hole Dozer Door Lock Hole Saw Kit
– 3.5 TPI for Longest Life in Metals
– All-Access Slots for Easy Plug Removal
– Increased Pilot Visibility for Accurate Hole Placement
– Thermoset Coating for Faster Cutting
– Limited Lifetime Tooth Break Warranty
– Made in USA
– For use in general purpose applications such as thick/thin metals, aluminum, drywall, plastics, wood, wood with nails
– 1-5/8″ cutting depth
– Most Durable Hole Saw. Period
Milwaukee Brand
Since the company began in 1924, Milwaukee Tool has led the industry in developing innovative solutions that deliver increased productivity and unmatched durability for professional construction users. Whether it is through our world-leading M12™ and M18™ cordless systems, the ground-breaking performance of our M12 and M18 FUEL™ products, jobsite lighting, time-saving accessories, or innovative hand tool and storage products, Milwaukee are dedicated to delivering a continuous flow of advanced, trade-specific solutions. We have invested the time to work side-by-side with real users to understand the demands of a constantly changing workplace and how we can best deliver solutions for a safer, more productive jobsite. Milwaukee Tool is not simply a manufacturer – Milwaukee are progressive problem solvers.