ISO 14644-1/2: 2015 Insights & Solutions
ISO 14644-1:2015 continues to pose challenges to cleanroom managers and manufacturers. Here we provide several sources of information to help everyone from those new to this ISO regulation to veterans in the field.
Our team of regulatory experts has put together a package of information so you can easily understand the requirements and what you need to do to meet them. Get a summary of ISO 14644-1:2015 by reading the paper below or watching the on-demand webinar here. We also have FAQs and a paper to learn about the closely relevant ISO 21501-4 calibration standards and how they apply to you.
Do you need an ISO 14644-1:2015 compliant product that is supported with ISO 21501-4 calibration? We have a complete offering of remote/continuous solutions as well as portable/mobile particle counters. Scroll to the bottom to see our list or view our cleanroom particle counters page and use the filters to find the right solution for your application quickly and easily.
Over the last five years, the ISO Technical Committee 209 has been working on the revision of the basic airborne cleanliness classification, 14644-1 and -2. The ISO community voted in favor of the revision to update and improve the standard specifically to:
Simplify the classification process, and if possible, remove the need to evaluate the 95% upper confidence limit (UCL) for low sample location numbers (currently required for 2/9 of cleanroom locations).
Review the classification procedure and make it more applicable to cleanroom operation. In this situation, the contamination is not expected to be evenly distributed; an assumption the current statistical approach makes.
These changes are being made, generally, to update the standard as required to current thinking and industry requirements and to avoid any radical change to the principles of the current ISO cleanliness classes 1-9. The same technical committee has also been working on the revision of ISO 14644-2:2000 (not analyzed here), in conjunction with the revision of ISO 14644-1. The ISO community voted in favor of the revision to improve the ISO 14644-2:2000 standard to: Simplify and clarify requirement and guidance tables that specify the frequency of testing and monitoring of cleanrooms used to demonstrate continued compliance with the cleanliness classification.
Learn more about the revision and cleanroom monitoring according to ISO 14644 from this webinar.
ISO 14644-1:2015 Revisions Summary for Electronics
Application Note
Read more >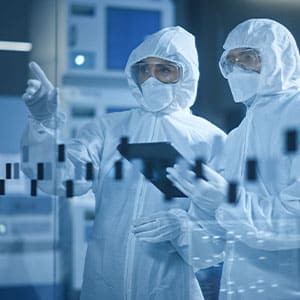 ISO 14644-2:2015 Cleanroom Monitoring
Application Note
Read more >