SPECIFICATIONS EXTECH 380947 400A TRUE RMS AC/DC MINI CLAMP METER
True RMS: True RMS
Display counts: 4000 count LCD
Jaw size/Cable size: 0.9″ (23mm); 4/0 AWG
AC Current: 4A, 40A, 100A, 400A
DC Current: 40A, 400A
Max Resolution: AC: 0.001A, DC: 0.01A
Basic ACA Accuracy (% rdg): AC: ±1.5%, DC: ±1.0%
Frequency (Max Res.): 10kHz (0.01Hz)
Data Hold: Yes
Min/Max: Min/Max
Dimensions/Weight: 7×1.8×1.3″ (178x45x32mm)/ 8oz (225g)
Introduction Extech 380947
True RMS mini-clamp with high current resolution
The compact Extech 380947 is a 400 Amp True RMS mini clamp meter. This meter has a small diameter jaw designed to reach in small areas while providing 1mA resolution and very low-current sensitivity. This mini clamp meter is useful for current and frequency related troubleshooting in plant maintenance, electrical, HVAC, and telecom work, as well as home electrical, fleet maintenance, marine, and motorcycle repairs. Comes with battery and manual.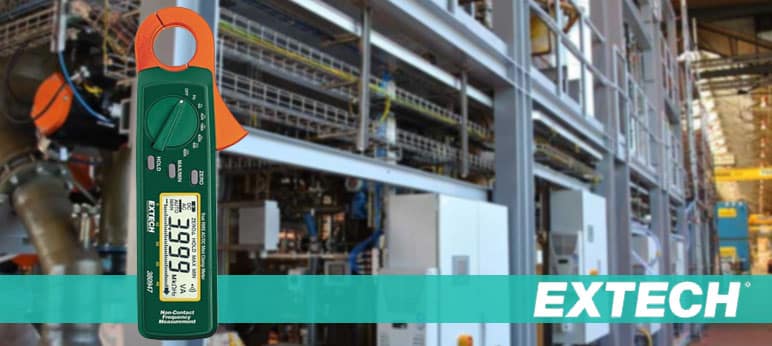 Features: Extech 380947
– 0.9″ (23mm) jaw opening
– True RMS measurements with 1mA AC resolution
– Non-contact Frequency measurements to 10kHz through the clamp jaws
– Fast 40 segment bargraph
– One touch Auto Zero
– Min/Max, Data hold and Auto power off
Extech Brand
Extech Instruments was established in 1971, it has focused on Test and Measurement tools built for the professionals, tradesperson and DIY'ers. When it comes to tools that help prevent, identify and troubleshoot problems in a plethora of applications; whether it's electrical, mechanical, maintenance, safety or environmental applications, Extech products are trusted by the professionals and are put to the test every day. With over 45 years, Extech is renowned as one of the largest manufacturers and suppliers of innovative, quality handheld test, measurement and inspection tools in the world. Sold in over 100 countries around the world, Extech's success is supported by a far-reaching network of dedicated and knowledgeable distributors who introduce new users to Extech every day.