SPECIFICATIONS TENMARS TM-413 AIR VELOCITY METER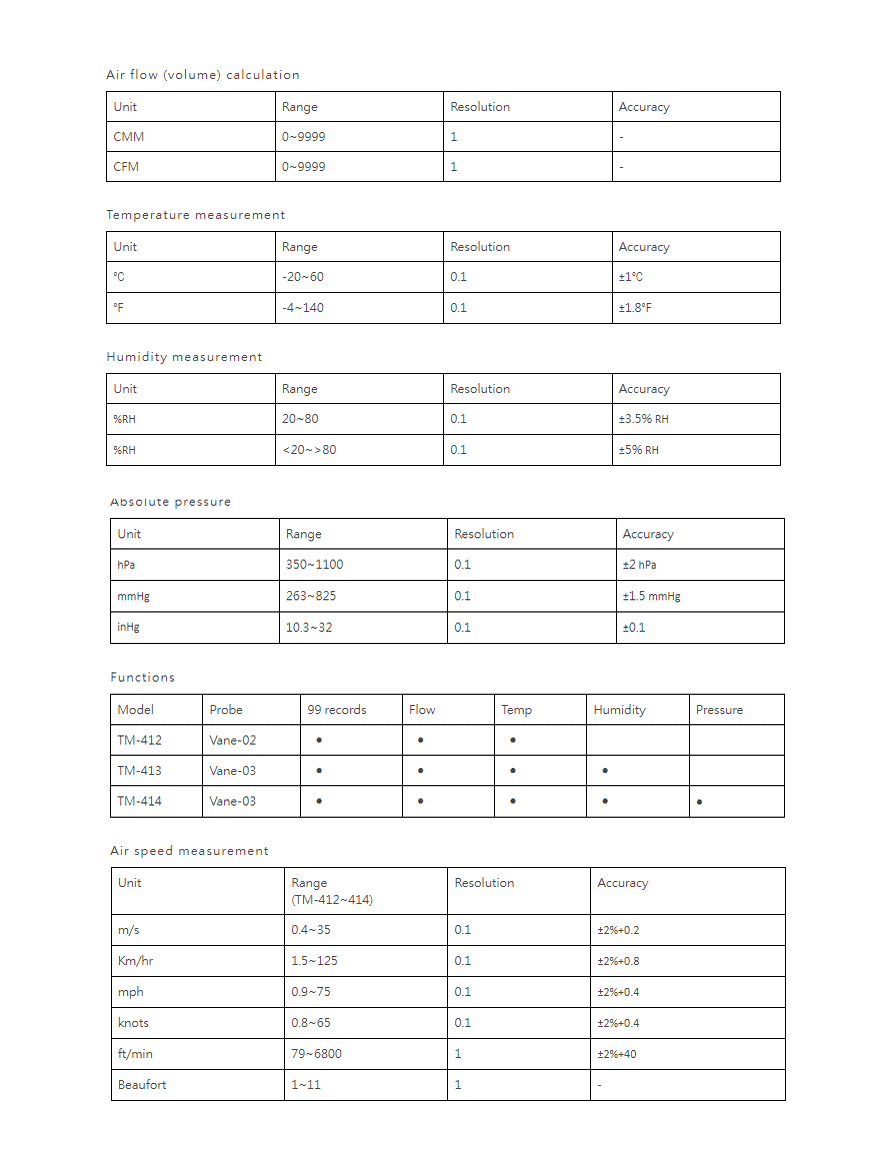 Introduction Tenmars TM-413 Air Velocity Meter
Measurement of air velocity, air temperature and air flow (volume) is possible with the Tenmars TM-413. This is a vane air flow meter (anemometer) with a dual dital display and a 45mm vane housed at the end of a 95cm long cable, with an easy connector making it simple and quick to plug into the main unit. The Tenmars TM-413 can measure air velocity in various units from 0.4m/s up to 25m/s with a resolution of 0.1m/s, and is also capable of measuring temperature from -20 up to+60 degrees Celsius, and relative humidity from 20% to 80%, making it an ideal instrument for diagnosing air flond air conditioning faults.
Features Tenmars TM-413
– 45mm 4 plastics vane
– High sensitivity of 0.4m/s.
– Air flow calculates function.
– Max/Min/Avg and data hold.
– Auto power off with disable function.
– Memory capacity: 99 records.
– Memory recall function.
– Backlight function.
– Absolute Pressure Sensor
– Humidity Sensor
Tenmars Brand
TENMARS ELECTRONICS CO., LTD. is an ISO-9001 certified manufacturer specializing in the Test and Measurement Instruments. Tenmars is headquartered in Neihu Technology Park in Taipei, Taiwan to serve the worldwide customers.
– Design and produce safe, user-friendly, and high quality instruments.
– Produce the high performance digitalized and computerized instruments with the advanced technology and equipments.
– Offer various, reliable and endurable instruments to meet the customer's satisfaction.
Main Products
Professional testing instrument manufacturer in Taiwan, providing:
* Class 1 Integrating Sound Analyzer Meter
* Sound Level Meter / 5KHz Vibration Meter / Noise Dose Meter
* CO Meter
* CO2/ Temp./ RH Monitor
* EMF/ RF Field Strength Meter
* Radiation Monitor
* Air Velocity Meter
* Solar Power Meter
* LAN Cable Tester
* Light Meter
* Tacho Meter
* Temperature/ Humidity Meters and Dataloggers
* Insulation Tester
* Milliohm Meter
* Multimeter
* Clamp Meter
* 3 Phase/ Motor Rotation Tester
* Capacitance Meter
* Battery Impedance Tester