SPECIFICATIONS MILWAUKEE M18 FMTIW2F12-0X0 FUEL™ 1/2″ MID TORQUE IMPACT WRENCH (MILWAUKEE 2962)
Torque (Nm): 0 – 475 / 610 / 745
No load speed (RPM): 0-1,250 / 1,950 / 2,575 / 1,325
Anvil: 1/2″ Square (Friction Ring)
Nut-busting torque (Nm): 881
Impact rate (IPM): 0-900 / 2,100 / 3,100
Max. bolt diameter (mm): M22
Battery platform: M18™ REDLITHIUM™-ION
Voltage (V): 18
Length (mm): 152
LED Light: Yes
FUEL Gauge: Yes
Weight with battery pack if applicable (kg): 2.3kg (w/ 5.0Ah)
Introduction Milwaukee M18 FMTIW2F12-0X0
Our M18 FUEL™ 1/2″ Mid-Torque Impact Wrench w/ Friction Ring (Milwaukee M18 FMTIW2F12) delivers the best power to weight ratio, most access in tight spaces, and faster removal speed. It provides 650 ft-lbs of nut-busting torque and only weighs 5.1 lbs, making it extremely versatile, capable of performing a wide variety of applications. Its POWERSTATE™ Brushless Motor generates the power needed to quickly perform many tasks, such as removing large bolts or lug nuts. This Milwaukee 2962 is the most compact in its class, giving you access to stubborn fasteners in spaces where larger impact wrenches can't fit without needing to disassemble components to reach bolts. Tri-LEDs surround the anvil to deliver brighter light with fewer shadows. Milwaukee M18 FMTIW2F12-0X0 has 4-Mode DRIVE CONTROL™ offers greater precision with a range of pre-set RPM and IPM levels, selectable from a single button on the tool. By selecting Mode 4, AUTO SHUT-OFF™ control applies no more than 35 ft-lbs of torque for hand-tight fastening applications to prevent overtightening. Milwaukee 2962 has Mode 4 also features Bolt Removal Control that delivers you full torque output, then decreases RPMs once the bolt is loosened to prevent fastener drops. REDLINK PLUS™ Intelligence ensures maximum performance, protecting the tool against overloads, over-heating, and over-discharge. The M18™ REDLITHIUM™ battery pack (not included) fits M18™ tools, delivering more work per charge and more work over the life of the pack.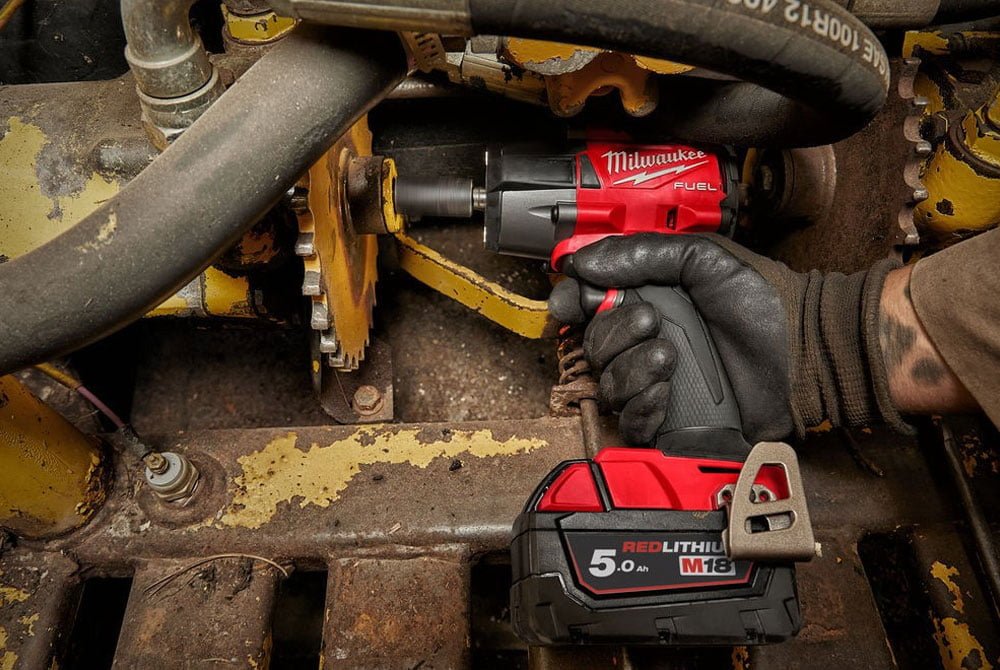 Features
– Most versatile cordless impact wrench in the MILWAUKEE® impressive arsenal with an industry-leading performance at 881 Nm of nut-busting torque and 745 Nm of fastening torque
– Incredibly compact design for this performance level, with only 152 mm overall length ideal for applications in tight spaces.
– 4-Mode DRIVE CONTROL allows the user to shift into four different speed and torque settings to maximise application versatility.
– Bolt removal control delivers full torque output, then decreases RPMs once the bolt is loosened to prevent fastener drops.
– Auto shut-off control applies no more than 47 Nm of torque for hand-tight fastening applications to prevent over-tightening.
– Tri-LEDs deliver high definition lighting to increase workspace visibility.
– ½″ square friction ring.
– Reversible belt hook.
– Integrates three MILWAUKEE®-exclusive technologies – the POWERSTATE™ brushless motor, REDLITHIUM™ battery pack and REDLINK PLUS™ intelligence hardware and software – which deliver outstanding power, run time and durability on the jobsite.
– Flexible battery system: works with all MILWAUKEE® M18™ batteries.
Milwaukee Brand
Since the company began in 1924, Milwaukee Tool has led the industry in developing innovative solutions that deliver increased productivity and unmatched durability for professional construction users. Whether it is through our world-leading M12™ and M18™ cordless systems, the ground-breaking performance of our M12 and M18 FUEL™ products, jobsite lighting, time-saving accessories, or innovative hand tool and storage products, Milwaukee are dedicated to delivering a continuous flow of advanced, trade-specific solutions. Milwaukee Tool is not simply a manufacturer – Milwaukee are progressive problem solvers.