SPECIFICATIONS MILWAUKEE M18 BBL-0 COMPACT BLOWER (Milwaukee 0884)
Air volume (m³/minute): 2.9 / 2.4 / 1.8
Fan speed (rpm): 18700 / 15300 / 11400
Battery platform: M18™ REDLITHIUM™-ION
Voltage (V): 18
Weight with battery pack if applicable (kg): 1.9kg (4.0Ah)
FUEL Gauge: Yes
Introduction Milwaukee M18 BBL-0
The M18™ Compact Blower (Milwaukee M18 BBL-0, Milwaukee 0884) delivers the fastest jobsite cleanup.
The M18 BBL – offers a best-in-class power-to-size ratio.
The M18™ Compact Blower (Milwaukee M18 BBL-0) has power control that includes a 3-speed electronic switch, lock-on, and a variable speed trigger which allows for versatile clearing power.
Milwaukee 0884 moves air at 160 MPH and 100 CFM for class-leading performance.
Featuring a shock-absorbing polymer body and a crush-resistant nozzle the M18™ Compact Blower delivers jobsite durability.
Included is a 9" extension nozzle to clear dust and debris easily from the ground or overhead.
The Milwaukee M18 BBL – also comes with a universal inflator/deflator. Works with all Milwaukee® M18™ Batteries (batteries sold separately).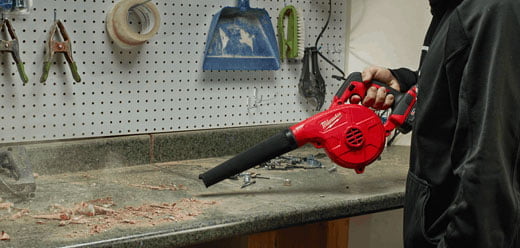 FEATURES MILWAUKEE M18 BBL-0
– 3-Speed electronic switch and variable speed trigger allow for versatile clearing power
– Lock-on switch reduces user fatigue
– Extension nozzle clears dust and debris easily from the ground or overhead without having to lean over or stretch
– Universal inflator/deflator for easy set-up and take-down of most inflatable products
– Shock-absorbing polymer and reinforced handle resist drops
– Nozzle made from soft plastic to resist crushing or cracking
Milwaukee Brand
Since the company began in 1924, Milwaukee Tool has led the industry in developing innovative solutions that deliver increased productivity and unmatched durability for professional construction users. Whether it is through our world-leading M12™ and M18™ cordless systems, the ground-breaking performance of our M12 and M18 FUEL™ products, jobsite lighting, time-saving accessories, or innovative hand tool and storage products, Milwaukee are dedicated to delivering a continuous flow of advanced, trade-specific solutions. Milwaukee Tool is not simply a manufacturer – Milwaukee are progressive problem solvers.