SPECIFICATIONS KYORITSU 4105DL-H EARTH TESTERS
+ Earth resistance measurement: 20Ω
Measuring range: 0.00 – 2000 Ω
Display range: 0.00 – 20.99 Ω
Accuracy*1: ±1.5%rdg±0.08 Ω*2
Auxiliary earth resistance*3: <10kΩ
Comparator reference value: 10Ω
+Earth voltage measurement
Measuring range: 0 – 300 V AC (45 – 65Hz)
Display range: 0.0 – 314.9 V
Accuracy: ±1%rdg±4dgt
+ Earth resistance measurement: 200Ω
Measuring range: 0.00 – 2000 Ω
Display range: 0.0 – 209.9 Ω
Accuracy*1: ±1.5%rdg±4dgt
Auxiliary earth resistance*3: <50kΩ
Comparator reference value: 100Ω
+Earth voltage measurement
Measuring range: 0 – 300 V AC (45 – 65Hz)
Display range: 0.0 – 314.9 V
Accuracy: ±1%rdg±4dgt
+ Earth resistance measurement: 2000Ω
Measuring range: 0.00 – 2000 Ω
Display range: 0 – 2099 Ω
Accuracy*1: ±1.5%rdg±4dgt
Auxiliary earth resistance*3: <100kΩ
Comparator reference value: 500Ω
+ Earth voltage measurement
Measuring range: ±0 – ±300 V DC
Display range: 0.0 – ±314.9 V
Accuracy: ±1%rdg±4dgt
Overload protection
Earth resistance : 360V AC (10 seconds)
Earth voltage : 360V AC (10 seconds)
Applicable Standards
IEC 61010-1, CAT IV 100 V /CAT III 150 V /CAT II 300 V Pollution degree 3
IEC 61010-2-030,IEC 61010-031, IEC 61557-1, -5
IEC 60529 IP67, IEC 61326-1, -2-2, EN50581(RoHS)
Power source
LR6(AA)(1.5V) × 6
Dimensions: 121(L) × 188(W) × 59(H) mm (including case lid)
Weight: Approx. 690g (including batteries and case lid)
Accessories for 4105DL
7127B(Simplified measurement probe)
8041(Auxiliary earth spikes[2 spikes/1set])
9121(Shoulder strap)
7267(Cable reel for Earth resistance tester (red))
7268(Cable reel for Earth resistance tester (yellow))
7271(Earth resistance test leads)
9190(Carrying case)
LR6(AA) × 6, Instruction manual
Accessories for 4105DL-H
7127B(Simplified measurement probe)
8041(Auxiliary earth spikes[2 spikes/1set])
9121(Shoulder strap)
7266(Earth resistance test leads[red-20m, yellow-10m, green-5m/1set])
9191(Hard case)
LR6(AA) × 6, Instruction manual
Optional
7272(Precision measurement Cord set)
8259(Adapter for measurement terminal)
*1 For precision measurement, auxiliary earth resistance should be 100 Ω ±5% or less.
*2 At simplified measurement add ±0.10 Ω to the specified accuracy.
*3 Accuracy within the auxiliary earth resistance: ±5% rdg ±10 dgt.
Introduction Kyoritsu 4105DL-H
The latest circuit design permits the instrument to operate with the minimum of influence from earth voltage and earth resistance of auxiliary earth spikes.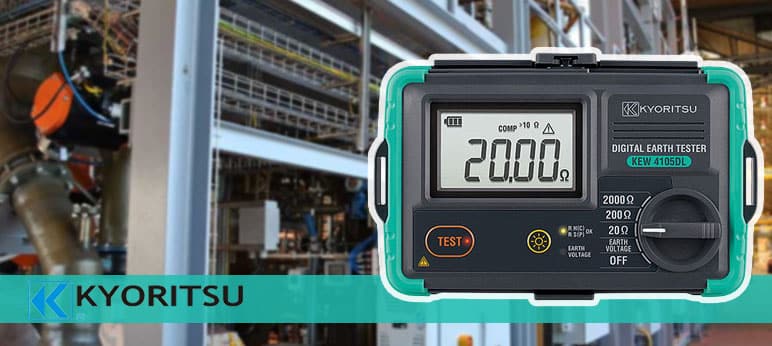 Features Kyoritsu 4105DL-H Earth Testers
KEW4105DL-H is an earth resistance tester for testing power distribution lines, in-house wiring system, electrical appliances etc. It also has an earth voltage range to measure earth voltage.
– Designed to meet the following safety standards.
IEC 61010-1, IEC 61010-2-030 CAT II 300 V, CAT III 150 V, CAT IV 100 V, Pollution degree 3
IEC 61010-031,
IEC 61557-1, -5
– Dust and water-proof construction in conformity with IEC 60529 (IP67). This instrument is water-proof, so it is washable.
– Backlight to facilitate working at dimly illuminated location or at nighttime work. The backlight automatically turns off if the range selector switch is not moved or a button is not pressed for two minutes.
– The instrument automatically powers off if the range selector switch is not moved or a button is not pressed for ten minutes. This auto-power-off function doesn't work during a continuous measurement.
– Shoulder strap for both-hands operation
– Earth voltage measurement: AC/ DC auto detection; Warning LED for hazardous high earth voltage
– Earth resistance measurement:
If the auxiliary earth resistance of auxiliary earth spikes is too high to make a precision measurement, the display shows warning and indicates which terminal, H(C) or S(P), has higher values with a warning LED.
Simplified measurement probe has a structure that both the alligator clip and the test bar are available.
Comparator function to give warning when a measured value exceeds the pre-set reference value.