Introduction Kyoritsu 3005A Digital Insulation/Continuity Tester
The Kyoritsu 3005A Digital Insulation and Continuity Tester uses a bargraph to display insulation resistance and displays the value of AC voltage along with a flashing symbol.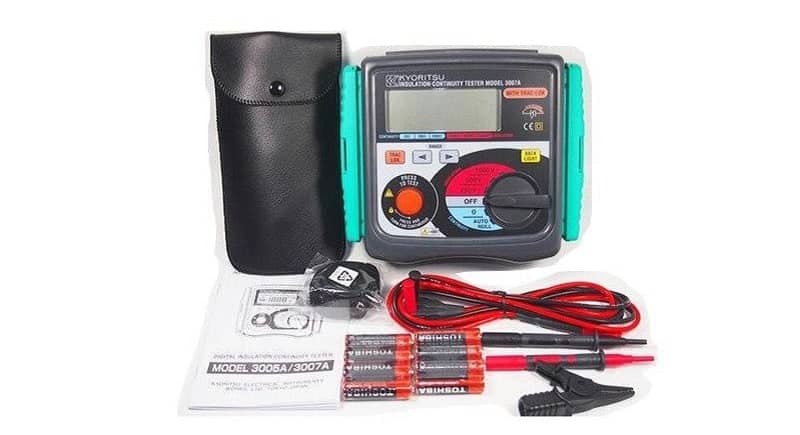 Kyoritsu 3005A Digital Insulation/Continuity Testers
Features
Bargraph to display insulation resistance.
Displays the value of external AC voltage along with flashing symbol.
Auto null function to automatically subtract the test lead resistance before displaying the real continuity resistance value.
Live circuit warning beeper.
Releasing the test button automatically discharges the charges stored in the circuit under test.
200mA continuity measuring current to IEC 61557.
Minimum 1mA current on insulation tests to IEC 61557.
Specifications
Insulation Resistance
Test voltage
250V/500V/1000V
Measuring ranges<br>(Mid-scale value)
20MΩ/200MΩ/2000MΩ
Output voltage on open circuit
Rated test voltage+20%, -0%
Nominal current
1mA DC min.
Output short circuit current
1.5 mA DC approx.
Accuracy
±1.5%rdg±5dgt (20MΩ/200MΩ)
±10%rdg±3dgt (2000MΩ)
Continuity Test
Measuring ranges<br>(Mid-scale value)
20Ω/200Ω/2000Ω
Output voltage on open circuit
7 – 12V DC
Measuring current
200mA DC min.
Accuracy
±1.5%rdg±5dgt (20Ω)
±1.5%rdg±3dgt (200Ω/2000Ω)
AC Voltage
| | |
| --- | --- |
| AC voltage range | 0 – 600V AC |
| Accuracy | ±5%rdg±3dgt |
General
Safety Standard
IEC 61010-1 CAT III 300V Pollution Degree 2
IEC 61010-2-031 IEC 61557-1/2/4
IP Rating
IEC 60529-IP54
EMC Standard
IEC 61326-1
Power source
R6 (AA) (1.5V) × 8
Dimensions
167(L) × 185(W) × 89(D)mm
Weight
970g approx
Included Accessories
7122B (Test leads) Pouch for test leads
8923 (F500mA/600V fuse) × 2
R6 (AA) × 8, Shoulder Strap
Instruction Manual