SPECIFICATIONS KIMO VT50 THERMO-ANEMOMETER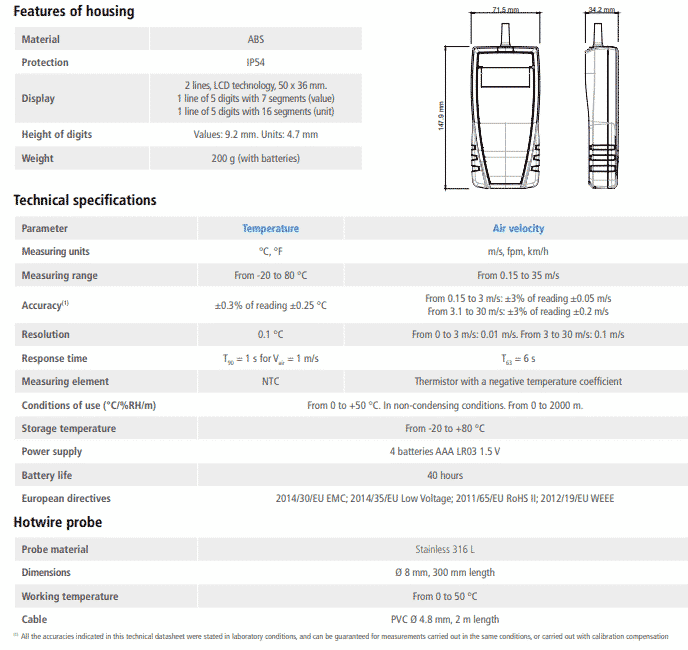 Introduction KIMO VT50 Thermo-anemometer Hotwire
KIMO VT50 includes a long-length (300mm), small diameter (8mm) hot wire probe for reaching those applications where a normal anemometer would struggle. Better suited for measuring inside those tricky small or hard-to-reach ducts.
The KIMO VT50 is a thermo-anemometer – it can be used to test both air temperature and velocity levels. It can test temperature from -20 to +80°C and velocity from 0.15 to 30m/s. Results are highly accurate and you can test down as low as 0.1°C and 0.01m/s. Temperature measurements can be switched from Celsius/Fahrenheit, while velocity measures can be performed in metres per second, feet per minute or kilometres per hour.
This anemometer consists of two parts – the actual measuring display/adjustment unit and the hotwire probe. The probe is attached to the anemometer permanently via a flexible cable, allowing you to easily hold the display unit in one hand while you hold the hot wire probe in the other (e.g. inside a duct). If you still can't see the screen, simply hit the HOLD button and the VT50 will store the current screen until you press the HOLD button again.
Features
300mm length, 8mm diameter hot wire probe makes it easier to test in difficult applications
Dual capabilities – measures both air temperature and velocity
Temperature measurement range from -20 to +80°C
Velocity measurement range from 0.15 to 30m/s
Switch between Celsius/Fahrenheit temperature measurement modes
Switch between m/s, fpm and km/h velocity measurement modes
Powered by 4 x AAA 1.5V batteries with life of 40 hours
HOLD function temporarily stores current value shown on the screen
Kimo Brand
KIMO is a manufacturer and designer of instruments and instruments for environmental measurement and control in France. The equipment manufactured by KIMO meets ISO 9001:2008 quality standards
KIMO products are applied in many fields such as:
– Installation, testing, control of heating and air conditioning systems, ventilation systems, engineering design, manufacturers with air handling products, operation and maintenance of machinery. ..
– Industries such as pharmaceutical factories, electronic equipment factories…
– Industries such as food, agriculture, paper, nuclear…
– Services, hospitals, clinics, museums…