SPECIFICATIONS HIOKI ST5540 LEAK CURRENT HiTESTER 
Measurement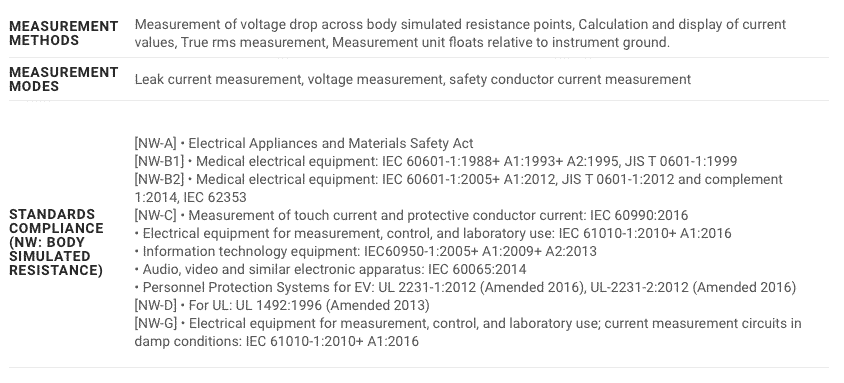 Leak current measurement
Other
Introduction Hioki ST5540 Leak Current Hitester
To ensure the safe use of electrical products, electrical safety tests such as insulation resistance, withstand voltage, ground resistance, and leakage current must always be conducted. Hioki Leakage Current Testers comply with laws and standards regarding medical electrical equipment as well as non-medical electrical equipment. And can be used to measure leakage current in all types of electrical products from computers to medical equipment. The Hioki ST5540 consists of measurement networks that simulate the human body and a high-frequency volt meter, and is also capable of switching power supply polarities and making measurements under simulated single fault conditions in equipment under test.
Features Hioki ST5540 Leak Current Hitester
– Compliance with IEC 60601-1:2005 Ed 3.0, JIS T 0601-1:2012 for medical-use electrical devices and essential to electrical safety (*Starting on June 1, 2012, medical electrical equipment sold in the EU must comply). Model ST5540 comply with IEC 60601-1:2005+ A1:2012 (Ed 3.1), and IEC 62353 of 2017
– Compliance with Electrical Appliances and Materials Safety Act, JIS, IEC, and UL standards for general-use electrical devices
– Uninterrupted polarity switching function dramatically reduces cycle time
– Support for rated currents up to 20 A gives the instrument more than adequate capability for testing products designed to comply with new standards
– Touch panel features simple, interactive operation
– Communications functionality and external I/O support allow automatic testing on production lines
Leak Current Measurement – Essential to Electrical Safety
Compliance with IEC 60601-1:2005 (3rd Edition) is now mandatory. The ST5540 also complies with JIS T0601-1:2012. The ST5540 series features an improved measuring method and dramatically faster cycle times thanks to its uninterrupted polarity switching capability. The new devices support rated currents of up to 20A, making it more than ideal for use with products built to new standards.
Leak Current Testing of Medical Electrical Devices
In order to prevent the danger of electric shock, electrical devices use power supplies that are isolated from parts of the device that may come into contact with the body. However, it is impossible to achieve infinite insulation resistance. Some leak current always exists, and its magnitude changes as the insulation degrades over time. The LEAK CURRENT HiTESTER ST5540/ST5541 provides an easy-to-operate solution for measuring leak current in electrical devices, making it eminently suitable for use in an extensive array of applications, ranging from production lines to equipment maintenance and inspections.
Combine with Model 3157 to meet JIS T 1022:2006: Safety requirements of electrical installations for medically used rooms in hospitals and clinics
Combine the ST5540 with Hioki Model 3157 AC Grounding HiTester for Leak Current and Safety Conductor Testing The following are key parts of any safety inspection of electrical equipment: •Leak current test: Measure with the ST5540 and ST5541. •Safety conductor test (also known as a ground line resistance test or ground conductor test): Measure with the 3157. The 3157 can also be used for conducting measurements under the JIS T 1022:2006 safety standard for hospital electrical equipment.