Hioki LR8431-20 MEMORY HiLOGGER – product introduction
SPECIFICATIONS HIOKI LR8431-20 MEMORY HiLOGGER
Number of channels
Analog: 10 isolated channels using scanning input method (M3 mm dia. screw terminal block)
Pulse: 4 channels (All pulse inputs share common ground with the main unit)
Measurement parameters
Voltage : ±100 mV to ±60 V, 1-5V f.s. 6 ranges, Max. resolution 5µV
Temperature (thermocouples) : -200 ˚C to 1800 ˚C (depend on the sensor), 1 range (K, J, E, T, N, R, S, B), Max. resolution 0.1 ˚C
Temperature (Pt 100 sensor) : cannot use
Humidity : cannot use
Totalized pulses : 0 to 1000M pulse, 1 range (No-voltage 'a' contact, open collector or voltage input), Max. resolution 1 pulse
Rotation count : 0 to 5000/n (r/s) f.s. 1 range (No-voltage 'a' contact, open collector or voltage input), Resolution 1/n (r/s) Note: n = pulses per rotation (1 to 1,000)
Max. allowable input
DC 60 V (Analog input), DC -5 V to 10 V (Pulse input)
Max. rated voltage to earth
AC 30 Vrms, DC 60 V (Upper limit voltage that does not cause damage when applied between input channel and chassis, and between each input channels)
Recording intervals
10 ms to 1 hour, 19 selections (All input channels are scanned within each recording interval.)
Selectable filters
50 Hz, 60 Hz, or OFF (digital filtering of high frequencies on analog channels)
Memory capacity
Internal storage: 3.5 M-words, External storage: CF card or USB memory stick (only the HIOKI CF card is guaranteed for correct operation)
External interface
USB 2.0 mini-B receptacle ×1; Functions: Control from a PC, Transfers files from the installed CF card to a PC (cannot transfer files from the connected USB memory stick to a PC via USB communication), Data copy between CF card and USB memory stick
Display
4.3-inch WQVGA-TFT color LCD (480 × 272 dots)
Functions
Save data to the CF card or USB memory stick in real time, Numerical Calculations, etc.
Power supply
AC adapter Z1005: 100 to 240 VAC (50/60 Hz)
Battery pack 9780: Continuous use 2.5 hours
12 V DC supply: 10 to 16 V (please contact HIOKI distributor for cable; less than 3 m/9.84 ft cable length)
Dimensions and mass
176 mm (6.93 in) W × 101 mm (3.98 in) H × 41 mm (1.61 in) D, 550 g (19.4 oz) (Battery pack 9780 not installed)
Included accessories
Measurement Guide ×1, CD-R (Instruction manual PDF, Logger Utility Instruction Manual PDF, Data acquisition application program Logger Utility) ×1, USB cable ×1, AC adapter Z1005 ×1
Introduction Hioki LR8431-20 MEMORY HiLOGGER
Hioki LR8431-20 Memory HiLoggers are high-speed data loggers for recording multiple chanels of voltage, temperature, pulse or rotation signals, providing complete isolation between channels and strong noise resistance . The Hioki LR8431 logs data at 10ms speeds across 10 channels simultaneously, and features a bright color LCD for crystal clear waveform displays.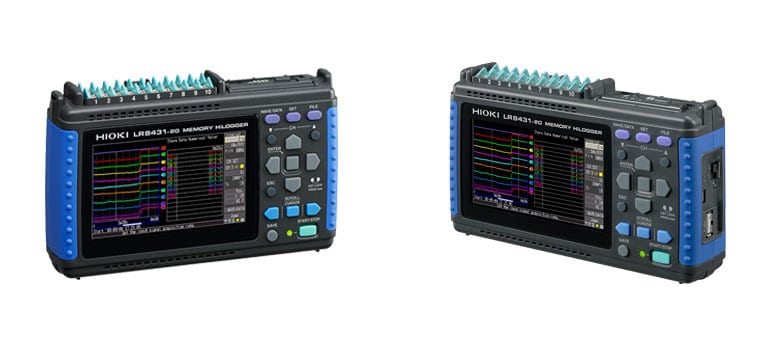 This compact logger excels in a broad range of settings, from production lines to research and development
For applications such as
– Evaluating motors and inverters used in electric and hybrid vehicles
The LR8431-20 enables stable, low-noise measurement of high-speed, high-resistance targets.
– Efficiency measurement and performance evaluation of air conditioning equipment
The LR8431-20 supports simultaneous, multi-point measurement, for example of input and output at multiple air conditioning registers or the temperature of internal components.
– Temperature measurement and performance evaluation of internal components in electronic equipment
Used with a wind velocity converter, the LR8431-20 can measure cooling efficiency inside equipment enclosures.
10-channel logger still fits in the palm of your hand
Ultra-compact for convenient portability.
There's no need to worry about differing potentials of measurement objects when measuring temperature and voltage.
All ten analog channels are isolated.
Even when measuring temperature and voltage at the same time, interchannel interference and electric shock hazards are eliminated.
The four pulse channels are ideal for counting revolution pulses to measure rotation speed. (Pulse inputs share common ground.)
A data logger with a 10 ms sampling and recording across all channels
Abrupt changes in load need to be measured during development of EV, HV, PHV for which multi-channel, 10 ms sampling is essential.
This Memory HiLogger can track waveforms that could not be followed with the 100 ms sampling interval previously available.
Featuring USB flash drive and CF card support
The LR8431-20 can record measurement data on a USB flash drive for easy transfer to a computer.
In long-term measurement applications, it can also record to reliable Compact Flash cards for increased peace of mind.
Replace storage media during real-time recording.
Switch out fully loaded storage media with new ones while recording without stopping the measurement so that you can analyze any data recorded so far.
* During high-speed recording, be sure to insert the new storage media within 2 minutes of removing the former.
*Use only HIOKI CF cards, which are manufactured to strict industrial standards, for long-term storage of important data. Operation of non-HIOKI CF cards is not guaranteed.
Included PC application with measurement and analysis functionality
The supplied Logger Utility software enables processing of measurement data on a PC.
Use the supplied Logger Utility software to record data on a PC in real-time.
View past data during recording.
Connect the PC to the HiLOGGER using USB.
Features Hioki LR8431-20
– Record measurement data on a USB flash drive for easy transfer to a computer
– Record to reliable Compact Flash cards during long-term measurement applications for increased peace of mind
– Replace storage media during real-time recording
– Improved thermocouple measurement accuracy and reference junction compensation accuracy
– Ten isolated analog input channels
– 10 ms sampling and recording across all channels
– Noise-resistant measurement circuitry for improved readings
– Ultra-compact for convenient portability
– Widescreen, bright LCD gives excellent viewability