Introduction Thermometer Soldering Tester Hakko FG-100B-81
Automatic measurement to standardize the process
Minimize individual differences in how to complete measurement and read result.
Features Hakko FG-100B-81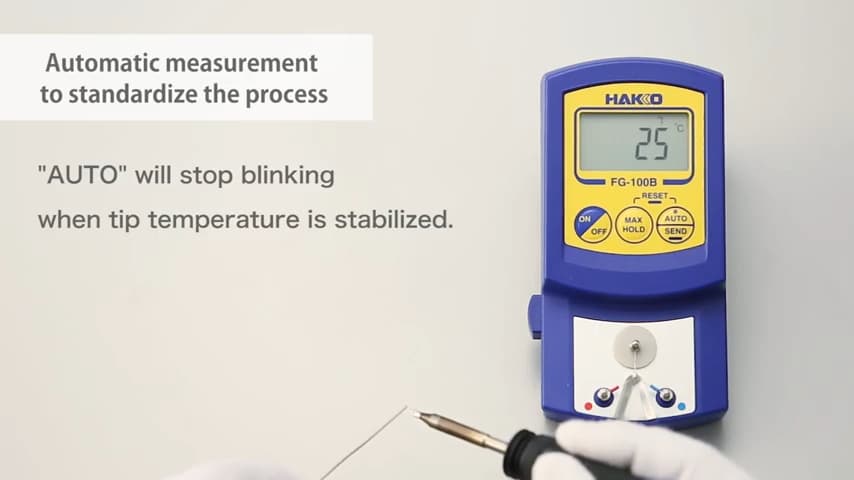 Automatic temperature measurement: AUTO HOLD Function
The measurement will end automatically when tip temperature is stabilized.
The measurement process will be the same no matter who does it.
Constant display of measured max. temperature: MAX HOLD Function
Max measured tip temperature will be displayed.
This function can be useful for quality control of components and P.W.B.
Temperature Sending Function
By infrared communication, FG-100B can send temperature measurement results by AUTO HOLD function or MAX HOLD function to a soldering station (FN-1010, FX-805) with an IR receiver.
*AUTO HOLD function and MAX HOLD function cannot be used at the same time.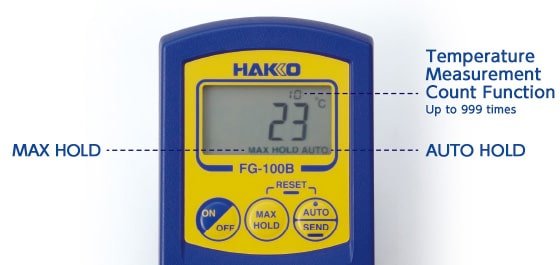 Long life sensor AS5000 (with certificate of conformance) is equipped as standard
Possible to measure tip temperature faster with high accuracy
Approximately 30 times longer than the conventional sensor
Temperature Measurement Count Function
Number of tip temperature measurement will be automatically counted.
This function can be useful for control of changing sensor.
Auto Shutoff Function
It will automatically turn the power off if a measured temperature does not exceed 100℃ for 3 minutes.
It saves battery power and time for changing the battery.
Accessible from any direction
Allows you to measure from any desired direction according to tip shape
Several ways of measurement can be possible with temperature probes. (Option)
FOR SOLDERING POT A1310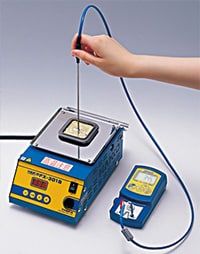 FOR HOT AIR STATION C1541
Specifications
Model No.
FG-100B-81
Power supply
006P 9V dry battery (alkaline cell recommended)
Temperature resolution
1ºC
Temperature measurement range
0 to 700ºC
Temperature precision
±3ºC (300 to 600ºC)
±5ºC (other than above)
Temperature sensor
K (CA)type thermocouple
Display
LCD : 3 1/2 digits
Operating environment
Ambient temperature/humidity range : 0 to 40ºC, 20 to 90%RH (without condensation)
Environmental conditions
Applicable rated pollution degree 2 (According to IEC/UL 61010-1)
Dimensions
68(W)×140(H)×38(D) mm
Weight
125g