SPECIFICATIONS GW Instek LCR-6100 PRECISION LCR METER
TEST FREQUENCY
LCR-6100: 10Hz~100kHz(±0.01%) (4 digits resolution)
OUTPUT IMPEDANCE
30Ω / 50Ω / 100Ω selectable
BASIC ACCURACY
Slow / Med: 0.05%
Fast: 0.1%
TEST SPEED
FAST:25ms / MED:100ms / SLOW:333ms
TEST SIGNAL LEVELS
AC Voltage: 10.00mV- 2.00V (±10%) CV :10.00mV- 2.00V(±6%)
Current:100.0μA- 20.00mA (±10%) CC :100.0μA- 20.00mA(±6%) (@2VMax)
DCR: ±1V(2Vpp), Square wave, 3Hz up 0.033A(Max)
DC BIAS
Internal: ±2.5V (0.5%+0.005V)
DISPLAY RANGE
R, X, |Z|: 0.00001Ω ~ 99.9999MΩ
G, B, |Y|: 0.01nS ~ 999.999S
L: 0.00001μH ~ 9999.99H
C: 0.00001pF ~ 9999.99mF
D: 0.00001 ~ 9.99999
Q:  0.00001 ~ 99999.9
θd: -179.999° ~ 179.999°
θr: -3.14159 ~ 3.14159
DCR: 0.00001Ω ~ 99.9999MΩ
Δ%:  -99999% ~ 99999%
TEST MODE
16 Combinations: Cs-Rs, Cs-D, Cp-Rp, Cp-D, Lp-Rp, Lp-Q, Ls-Rs, Ls-Q, Rs-Q, Rp-Q, R-X, Z-θr, Z-θd, Z-D, Z-Q, DCR
Monitor parameter (2 selectable): Z, D, Q, Vac, Iac, Δ, Δ%, θr, θd, R, X, G, B, Y
LISTED MODE
10 steps
BIN FUNCTION
Comparator (9BIN,AUX:1BIN)
MEMORY
INT – panel setting: 10 file name
INT – measured data: 10000 Data(.csv)
USB: storage 10 file name for setting, 9999 file name for data, 999 Log file for LCD screen
OTHER FUNCTION
Auto Level Control (ALC): ON/OFF
Average: 1~256 times
Trigger: INT / MAN / EXT / BUS
Delay: 0ms~60s
Judgment: PASS / FAIL
Auto LCZ: ON / OFF
Screen Capture: Saving in to USB (Bmp file)
DISPLAY
3.5'LCD, RGB color (320×240)
INTERFACE
RS-232(SCPI), Handler, USB Host
POWER SOURCE
AC 90V-250V, 50-60Hz, Max. 30VA
DIMENSION & WEIGHT
265(W)x107(H)x312(D) mm, Approx.3kg
Introduction GW Instek LCR-6100 Precision LCR Meter
The LCR-6000 series (Model GW Instek LCR-6100) adopts 3.5-inch color LCD and features opulent display parameters. In addition to simultaneously displaying setting criteria and measurement results, the series increases two additional monitoring parameters. In other words, there are four parameters, primary/secondary and two monitoring, simultaneously shown on the screen that tremendously enhances the measurement efficiency. The enlarge display mode not only emphasizes the measurement results, but also provides PASS/FAIL judgment to facilitate a rapid and convenient test result.
Convenience is one of the unique features. The LCR-6000 series comes equipped with two zero methods, which are full frequency range and spot. Users, without turning off the power and changing test fixture, can freely change frequency within the provided frequency range to conduct measurements. By so doing, tremendous time can be saved from repeatedly executing zero operation. Additionally, frequency range of the series is consecutive that allows users to input precise frequency value to conduct the most genuine test on components.
The brand new compacted LCR-6000 series can effectively improve the limitation of space. Diverse measurement functionalities and display methods are making the series the high CP ratio choice in meeting the requirements of R&D, component assessment for engineering departments, category sorting requirements for component production, and IQC for verification on component specifications.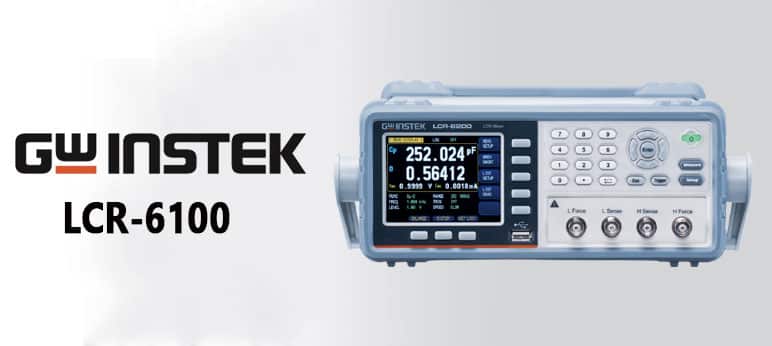 FEATURES
– 3.5" color LCD
– 5 models (10Hz~2kHz/20kHz/100kHz/200kHz/300kHz)
– Consecutive test frequency
– Basic accuracy : 0.05%
– Measuring speed up to 25ms (max.)
– Full frequency range or spot OPEN/SHORT
– 16 major/secondary parameter measurement combinations and two additional monitoring parameters(maximum four different parameters can be shown simultaneously)
– DCR measurement and internal D.C. bias voltage (±2.5V)
– PASS/FAIL judgment
– Auto Level Control (ALC) function
– BIN function provides 9BIN and 1AUX, totally 10 BIN
– 10 steps listed tests to select different frequency, voltage and current criteria
– Standard interface : RS-232C, Handler and USB Host / Device
– Compact size, ideal for automatic equipment (2U,1/2 RACK)