SPECIFICATIONS EXTECH 407732 SOUND LEVEL METER
Sound Range (dB): Low: 35 to 100dB, High: 65 to 130dB
Basic Accuracy: ±1.5dB (Type 2)
Weighting (A&C): Yes
Response Time (Fast/Slow): Yes
Condenser Microphone: 0.5″ (12.7mm)
Analog Output: –
Dimensions: 8.2×2.1×1.25″ (210x55x32mm)
Weight: 8.1oz (230g)
Introduction Extech 407732 Sound Level Meter
Dual-range Type 2 digital sound level meter with backlit LCD
Extech 407732 Sound Level Meter is type 2 sound level meter meets ANSI and IEC 651 Type 2 standards. Ideal for noise surveys in the workplace, installing fire alarms and speaker systems and enforcing noise ordinances. Measures from 35 to 130dB in 2-ranges with accuracy of plus or minus 1.5dB. Data hold and Max hold functions. Backlit display allows use in dimly lit areas. Complete with microphone wind screen and 9V battery.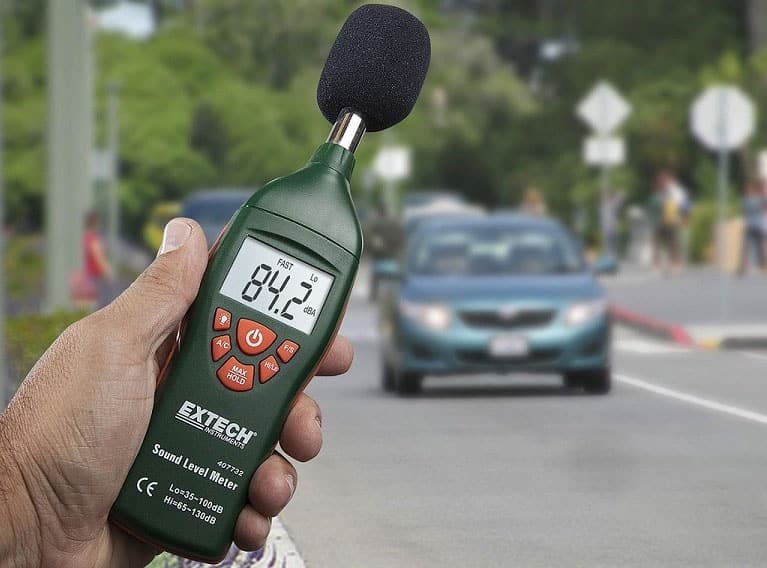 Features Extech 407732
– High accuracy meets ANSI and IEC 651 Type 2 standards
– High and Low measuring ranges: 35 to 100dB (low) and 65 to 130dB (high)
– Data Hold and Max Hold functions
– Backlit LCD display to view in dimly lit area
Extech Brand
Since 1971, Extech Instruments has focused on Test and Measurement tools built for the professionals, tradesperson and DIY'ers.
With over 45 years, Extech is renowned as one of the largest manufacturers and suppliers of innovative, quality handheld test, measurement and inspection tools in the world. Sold in over 100 countries around the world, Extech's success is supported by a far-reaching network of dedicated and knowledgeable distributors who introduce new users to Extech every day.
Extech's durable handheld meters and testers are put to the test, on the job every day, by professionals in:
Electrical contracting
HVAC/R and mechanical contracting
Manufacturing and plant MRO (maintenance, repair and operations)
Disaster and water damage remediation and restoration
Industrial process and automation
Environmental (e.g., indoor air quality, water quality)
Electronics design, testing and repair
Field service and maintenance
Workplace safety, health and hygiene
Energy efficiency services
Food manufacturing and processing
Laboratory testing
Facilities maintenance
Aviation maintenance
Automotive fleet maintenance
Additionally, Extech is the go-to brand for many vocational users who use Extech for DIY home improvement projects; electronics maker/hacker hobbyists; gardening; culinary and more.