SPECIFICATIONS SANWA CD800a DIGITAL MULTIMETERS 
DCV
Input impedance: 10M~100MΩ
Measuring range: 400m/4/40/400/600V
Best accuracy: ±(0.7%+3)
Resolution: 0.1mV
ACV
Input impedance: 10M~11MΩ
Measuring range: 4/40/400/600V
Best accuracy: ±(1.6%+5)
Resolution: 0.001V
DCA
Measuring range: 40m/400mA
Best accuracy: ±(2.2%+5)
Resolution: 0.01mA
ACA
Measuring range: 40m/400mA
Best accuracy: ±(2.8%+5)
Resolution: 0.01mA
Resistance
Measuring range: 400/4k/40k/400k/4M/40MΩ
Best accuracy: ±(1.2%+5)
Resolution: 0.1Ω
Capacitance
50n/500n/5μ/50μ/100μF
±(5%+10)
0.01nF
Frequency
5Hz~100kHz
±(0.5%+3)
Duty cycle
20%~80%
±(0.5%+5)
Continuity: Buzzer sounds at between 10Ω and 120Ω Open voltage:Approx.0.4V
Diode test: Open voltage:approx.1.5V
Introduction Sanwa CD800a Digital Multimeter
This auto-ranging multimeter will test AC and DC voltage and current as well as capacitance, resistance, frequency. It features a large, easily readable display for use in the field. It has all of the basic functions that you expect from a good digital multimeter including continuity check (with buzzer), diode test and data hold.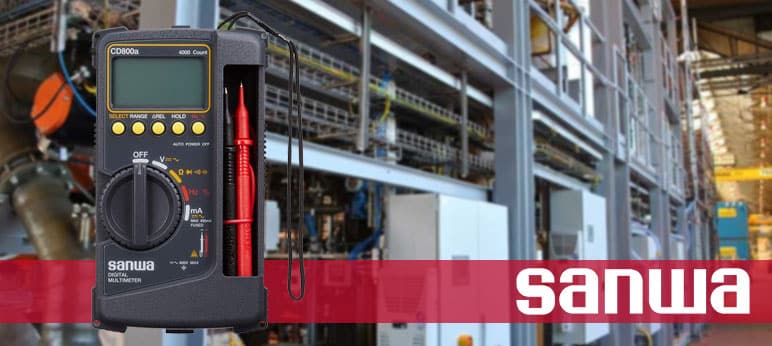 Features Sanwa CD800a
– Sharp contrast LCD with character 17.5 mm high is employed, and unit symbols are displayed on the screen of the LCD.
– Frequency, capacitance and duty cycle measurement function.
– Attachment body cover is used for protection of the meter and as a tilt stand.
– The current function is protected by a fuse.
– 3-3 / 4 digits 4000 count
– 0.7% best accuracy
– Capacitance measurement (Not suitable for measurement of condensers with large leakage current)
– Frequency measurement (AC sine wave only)
– Data hold / Range hold
– Auto power off (30min.) (cancelable)
– AC frequency bandwidth : 40〜400Hz
This instrument is portable digital multimeter designed for measurement of weak current circuits. It plays an important role in circuitry analysis by using additional functions as well as measurements of small type communication equipment, electrical home appliance, lighting voltage and batteries of various type.
Voltage measurement
DCV / ACV : Maximum rating input value 600 V DC/AC
1) Applications
DCV : Voltage of the battery and DC circuit are measured.
ACV : Sine wave AC voltage, such as lighting voltage, is measured.
2) Measuring ranges
DCV : 5 ranges from 400 mV to 600 V ACV : 4 ranges from 4 V to 600 V
SANWA BRAND
Sanwa is a brand established in August 1941 in Japan with the main manufacturing industry of Electrical Measuring Instruments. Currently, Sanwa has built an extensive distribution network in 74 countries worldwide. Sanwa is a longstanding prestigious Japanese brand trusted by engineers worldwide through the provision of high quality metrology products. The quality of safety- the international standard is appreciated by a client and a huge consumption.