SPECIFICATIONS MILWAUKEE M18 FIW12-0 FUEL™ 1/2″ COMPACT IMPACT WRENCH
Torque (Nm): 40 / 120 / 300 / 120
No load speed (RPM): 0 – 1700 / 2000 / 2500 / 2000
Anvil: 1/2″
Impact rate (IPM): 0 – 2400 / 2600 / 3100 / 2600
Max. bolt diameter (mm): M18
Battery platform: M18™ REDLITHIUM™-ION
Voltage (V): 18
Length (mm): 155
LED Light: Yes
FUEL Gauge: Yes
Weight with battery pack if applicable (kg): 1.8kg (5.0Ah)
Introduction Milwaukee M18 FIW12-0
The M18 FUEL 1/2" Compact Impact Wrench w/ Friction Ring (Milwaukee M18 FIW12-0) is the Most Powerful tool in its class by delivering up to 220 ft-lbs of torque in a compact design.
The POWERSTATE™ Brushless Motor not only provides unmatched power, but also provides greater efficiency, delivering up to 25% more run-time than the leading competitors.
REDLINK PLUS™ Intelligence is the most advanced electronic system on the market, preventing damage to the tool and battery caused by overloading or overheating.
REDLITHIUM™ Batteries (not included) deliver more work per charge and more work over the life of the pack than competitive batteries on the market.
The 4-Mode  DRIVE CONTROL™ provides greater control over output speed and power for greater versatility by delivering 0-900 RPM in Mode 1, 0-1600 RPM in Mode 2, and 0-2500 RPM in Mode 3.
Auto Shut-Off Mode intelligently detects when the tool has impacted on a fastener for one second and automatically shuts the tool down, reducing the likelihood of overdriving and damaging materials.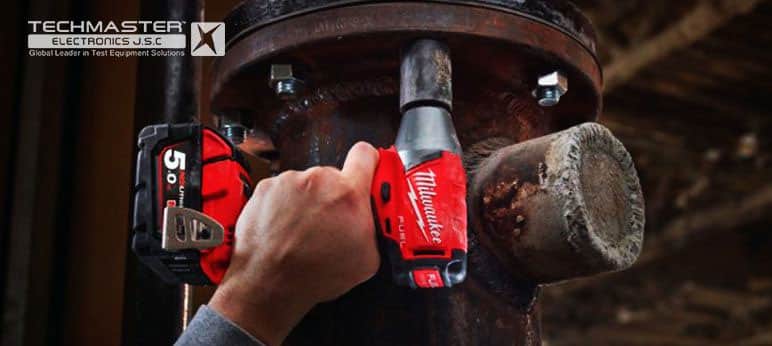 Features
– Brushless POWERSTATE™ motor for longer motor life and up to 20% more power
– REDLINK PLUS™ intelligence system delivers an advanced digital overload protection for tool and battery and uniquely enhances the tool performance under load
– 4-Mode DRIVE CONTROL allows the user to shift into four different speed and torque settings to maximise application versatility
+ Mode 1 for precision work
+ Mode 2 helps prevent damage to fasteners and material
+ Mode 3 delivers maximum performance for the toughest applications
+ Mode 4 intelligently detects when the tool has impacted on a fastener for one second automatically shutting the tool down, reducing overdriving and damaging materials
– REDLITHIUM™ battery pack provides superior pack construction, electronics and fade-free performance to deliver more run time and more work over pack life
– Individual battery cell monitoring optimises tool run time and ensures long term pack durability
– On board fuel gauge and LED light
– All metal reversible belt clip – quickly and easily hang tool
– Flexible battery system: works with all MILWAUKEE® M18™ batteries
Milwaukee Brand
Since the company began in 1924, Milwaukee Tool has led the industry in developing innovative solutions that deliver increased productivity and unmatched durability for professional construction users. Whether it is through our world-leading M12™ and M18™ cordless systems, the ground-breaking performance of our M12 and M18 FUEL™ products, jobsite lighting, time-saving accessories, or innovative hand tool and storage products, Milwaukee are dedicated to delivering a continuous flow of advanced, trade-specific solutions. Milwaukee Tool is not simply a manufacturer – Milwaukee are progressive problem solvers.