SPECIFICATIONS KYORITSU 1009 DIGITAL MULTIMETERS
400mV/4/40/400/600V (Input Impedance 10MΩ) ±0.6%rdg±4dgt (400mV/4/40/400V) ±1.0%rdg±4dgt (600V)
400mV/4/40/400/600V (Input Impedance 10MΩ) ±1.6%rdg±4dgt (20 – 400mV) ±1.3%rdg±4dgt (4/40V) ±1.6%rdg±4dgt (400/600V)
400/4000µA/40/400mA/4/10A ±2.0%rdg±4dgt
(400/4000µA)±1.0%rdg±4dgt
(40/400mA) ±1.6%rdg±4dgt (4/10A)
400/4000µA/40/400mA/4/10A ±2.6%rdg±4dgt
(400/4000µA) ±2.0%rdg±4dgt (40/400mA/4/10A)
400Ω/4/40/400kΩ/4/40MΩ ±1.0%rdg±4dgt (400Ω/4/40/400kΩ/4MΩ) ±2.0%rdg±4dgt (40MΩ)
400Ω (Buzzer sounds below 100Ω)
1.5V Release Voltage:Approx. 0.4mA Test Current
Capacitance: 40/400nF/4/40/100µF
Frequency:
5.12/51.2/512Hz/5.12/51.2/512kHz/5.12/10MHz
0.1 – 99.9% (Pulse width/Pulse period) ±2.5%±5dgt
IEC 61010-1 CAT III 300V
IEC 61010-2-031
IEC 61326
Power source: R6 (1.5V) × 2
Dimensions: 161(L) × 82(W) × 50(D)mm
Weight: Approx. 280g
Included Accessories: 
7066A (Test leads)
8919 (Ceramic fuse [10A/600V])× 1
8923 (Fuse [0.5A/600V])× 1
R6× 2
Instruction Manual
7234 (Crocodile clip test lead)
9095 (Carrying case)
Introduction  Kyoritsu 1009 Digital Multimeters
The Kyoritsu 1009 is a general purpose multimeter, incorporating the ability to measure both voltage and current. The 1009 model is compact and easy to use, making it a perfect addition to any toolbox….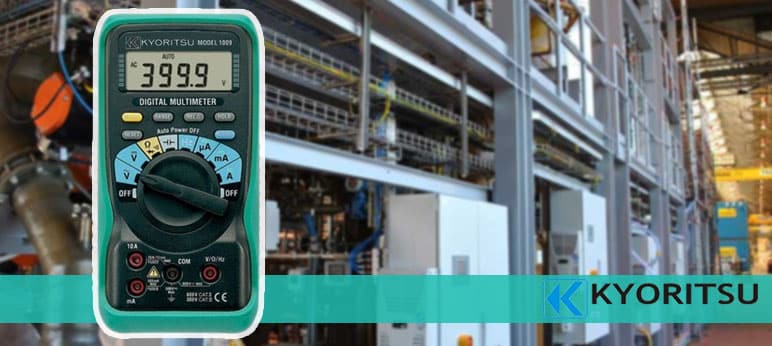 Features Kyoritsu 1009 Digital Multimeters
This instrument, 1009, is a Digital Multimeter which designed for making measurement of the low-voltage equipment.
– Designed to international safety standards. IEC 61010-1, IEC61010-2-033 Measurement CAT III 300V Pollution degree 2. IEC61010-031 (Requirements for the hand-held probe)
– 
REL function to check the difference of measured values
– 
Auto power off function to save battery consumption
– 
Diode and Continuity check function
– 
Frequency measurement function
– 
DUTY measurement function 
(Express Pulse width / Pulse period as a percentage)
– 
Current function is protected by fuse
– 
Instrument is protected from mechanical shock by holster.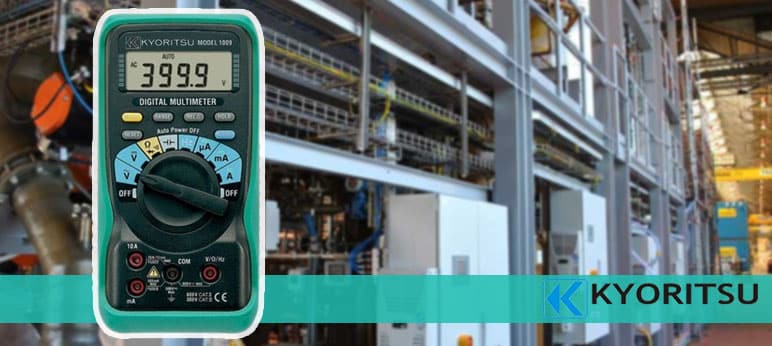 Kyoritsu Brand
Kyoritsu, Japan – a frontline global presence in Electrical Test & Measurement Equipment established in 1940. Kyoritsu offers an extensive range of high quality instruments from analogue/digital multimeters to high-end power quality analysers that are widely used and trusted by electricians, maintenance technicians and engineers. The company specializes in state-of-the-tech electrical measurement technology, and its diverse, user-friendly line of testers has significantly contributed to technological developments and industrial infrastructures worldwide.