SPECIFICATIONS GW Instek GPT-9901A ELECTRICAL SAFETY TESTER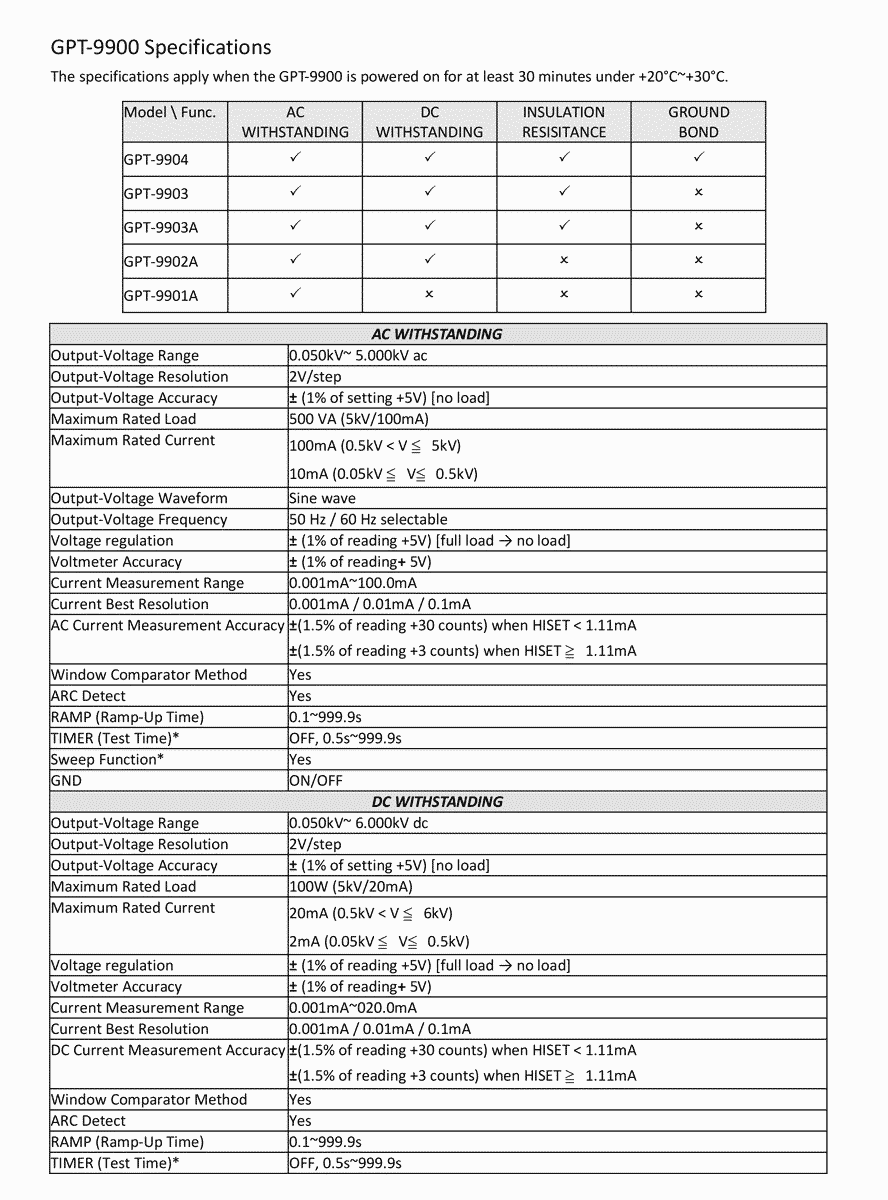 1. Introduction GW Instek GPT-9901A Electrical Safety Tester
GW Instek is launching a new safety tester (hi-pot tester/hipot tester) family. The GPT-9900 series, with 500VA maximum output capacity to the market. The family of four, including GPT-9904, GPT-9903A, GPT-9902A and GPT-9901A, come joining the GPT-9800 series, which carries 200VA output capacity, to serve the market with higher power demands for the safety tests of electronic products and components.
The GPT-9000 series supports the major test items among all the needed for the compliance of the safety standards such as IEC, EN, UL, CSA, GB, JIS and other safety regulations.
2. FEATURES 
– 500VA AC Test Capacity
– Short Current > 200mA
– 240×64 Ice Blue Dot matrix LCD
– Sweep Function for DUT characteristic analysis
– Insulation resistance measurement up to 50GΩ(GPT-9903A/9904)
– Manual/Auto Mode
– Function Key for quick selection
– High intensity flash for caution & Status indication
– Safety INTERLOCK function
– Zero Crossing Turn-on Operation
– Controllable Ramp-up Time
– RMS Current Measurement
– High resolution: 1uA for measuring current, 2V for setting voltage
– PWM amplifier to enhance the power efficiency and reliable testing
– Max. 100 memory block for test condition (step) setting. And each step can be named individually.
– Remote terminal on the front panel for "start" and "stop" control
– Rear panel output available
– Interface : RS-232C, USB device, Signal I/O and GPIB (optional)
GW Instek  Brand
Good Will Instrument Co., Ltd (acronym is GW Instek)  is a leading manufacturer of electrical test & measurement instruments in Taiwan. GW Instek is founded in 1975 and began as a manufacturer of power supplies and quickly expanded into the development of high precision electronic test and measurement instruments. After decades of experience in the test and measurement industry, GW Instek has grown to become one of the important manufacturers and developers of test and measurement instruments worldwide.