SPECIFICATIONS FLUKE 368 FC LEAKAGE CURRENT CLAMP METER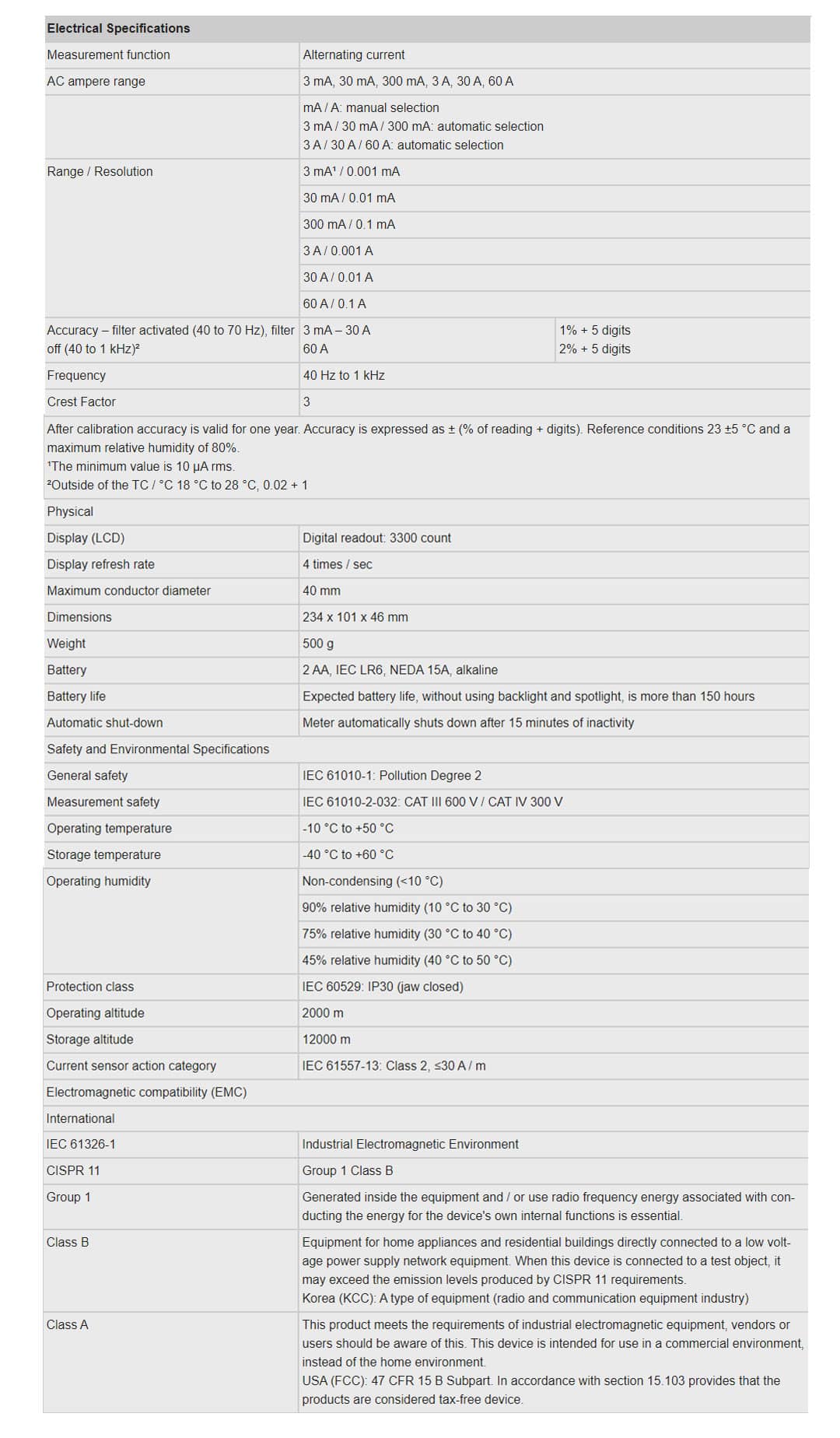 Introduction Fluke 368 FC Leakage Current Clamp Meter
The Fluke 386 FC provides a professional leakage current testing solution
The Fluke 368 FC true-rms leakage current clamp meter helps users detect, document, record and compare leakage current readings over time as a means of preventing unplanned downtime, and identifying intermittent GFCI and RCD trips, all without taking equipment off line.
The Fluke 368 FC has a large 40 mm diameter jaw for work with large conductors. The clamp's jaw is fully shielded to accurately capture very small leakage signals, and to minimize external electromagnetic interference.
The 368 FC also offers wireless data connectivity via Fluke Connect. As part of Fluke Connect — the industry's largest system of software and more than 40 wireless test tools — the 368 FC allows you to track changes in leakage current over time, helping to identify potential problems before they turn into major failures.
Features Fluke 368 FC
– True-rms measurements for accuracy when measuring complex, non-sinusoidal waveforms
– 40 mm jaw opening
– Highest resolution of 1 μA, measure up to 60 A
– Selectable filter function removes unwanted noise
– Max/Min/Average readings and hold function
– Forward-facing LED worklight for use in dark wiring cabinets
– Backlit display; auto backlight off and auto power off for extended battery life
– CAT III 600V safety rating
– Internal Memory Logging: up to 65,000 measurement points
Fluke brand
FLUKE Corporation is a global leader in manufacturing electronic measuring devices and software. This international corporation was founded in 1948, and in 1998 it became a part of Danaher Corporation. The headquarters of FLUKE Corporation is located in Everett, United States. FLUKE Corporation designs, develops, and manufactures measuring apparatus both for industrial and educational applications. FLUKE products are also used in public facilities and households. The company specializes in portable, handheld measuring devices that enable quick diagnosing and detecting problems in even complicated systems. Techmaster distributes product lines of measurement equipment from Fluke brand.