SPECIFICATIONS CHROMA 11021 LCR METER
Introduction Chroma 11021 LCR Meter
The Chroma 11021/11021-L are the most cost-effective digital LCR Meters, provide 100Hz, 120Hz, 1kHz, and 10kHz test frequencies for the 11021 and 1kHz, 10kHz, 40kHz, 50kHz test frequencies for the 11021-L. Standard RS232 interface, optional GPIB & Handler interface, high speed and stable measurement capabilities enable the Chroma 11021/11021-L can be used for both component evaluation on the production line and fundamental impedance testing for bench-top applications.
Bin-sorting Function
The 11021/11021-L provides 8-bins sorting function with bin count statistics. It is very convenient for magnetic core sorting or capacitor sorting. And the bin count statistics can be used to analysis distribution of tested results or production quality.
HI/GO/LO Comparator
The 11021/11021-L has a comparator function to judge HI/GO/LOW of capacitance measured results, and to judge GO/NG of D factor. And an alarming beeper for total GO/NG judge.
Trigger Delay Time
For large capacitance measurement in automatic production, a RC (meter output resistance and unknown capacitance ) delay time for test signal transient is necessary. The 11021/11021-L provides trigger delay time for it, and is convenient for automatic equipment timing adjustment.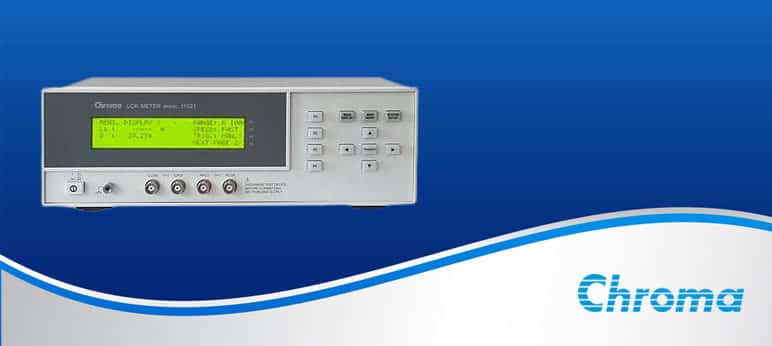 Features Chroma 11021
Test frequencies:
– 100Hz, 120Hz, 1kHz and 10kHz (9.6kHz) (11021)
– 1kHz, 10kHz, 40kHz, 50kHz (11021-L)
– Basic accuracy: 0.1% (11021), 0.2% (11021-L)
– 0.1mΩ~99.99 MΩ measurement range, 4 1/2 digits resolution
– Lower harmonic-distortion affection
– Fast measurement speed (75ms)
– Standard RS-232 interface
– Optional GPIB & Handler interface
– Programmable trigger delay time is convenient for measurement timing adjustment in automatic production
– Bin-sorting function
– Comparator and pass/fail alarming beeper function
– Text mode 40×4 matrixes LCD display
– Friendly user interface
– Open/short zeroing
– On-line fireware refreshable (via RS-232)
– Input protection (1 Joule)
Chroma Brand
Chroma ATE Inc. is founded in 1984 and is world leading supplier of precision test and measurement instrumentation, automated test
systems, intelligent manufacturing systems, and test & automation turnkey solutions. Significant markets Chroma serves include electric vehicle, green battery, semiconductor, photonics, LED, photovoltaic, flat panel display, video and color, power electronics, passive component, electrical safety, thermoelectric, automated optical inspection, and intelligent manufacturing system for ICT, clean technology, and smart factory industries. Chroma brand always focuses on improving technology to bring users the best quality products.