Chemical Particle Counter: Chem 20™
Sensitivity range: 20 – 100 nm
World's first 20 nm chemical particle counter
Leading-edge microelectronic processes require very clean process chemicals that are highly filtered and regulated to a particle size of 20 nm or below. With 20 nm particle sensitivity, the Chem 20 Chemical Particle Counter from Particle Measuring Systems (PMS)is the world's most sensitive particle sensor for high purity process chemicals and latest addition to our full line of liquid particle counters.
Extensive data on chemical distribution and packaging systems proves that the Chem 20 chemical particle counter, with 20 nm sensitivity, detects
Read more
larger concentrations of particles with better statistics than competitive products. The Chem 20 Chemical Particle Counter is a valuable tool that enables facility and process engineers to quickly detect and characterize chemical particle sources before they impact process and device performance.
The Chem 20 is one of Particle Measuring Systems' "Industry Leading Sensitivity" products. This means that there are no products on the market that are more sensitive than these and only PMS offers a line of products covering this many elements of production monitoring.  PMS currently leads the market in monitoring performance, sensitivity and reliability in the Ultrapure Water, Chemical and Airborne Molecular Contamination Monitoring fields. PMS' superior knowledge, technology and service provides High Tech and Chemical manufacturing companies the most advanced tools to make accurate data-driven decisions, improving both performance and yield. 
Learn about our full line of particle counters.
Download Spec Sheet
Request a Quote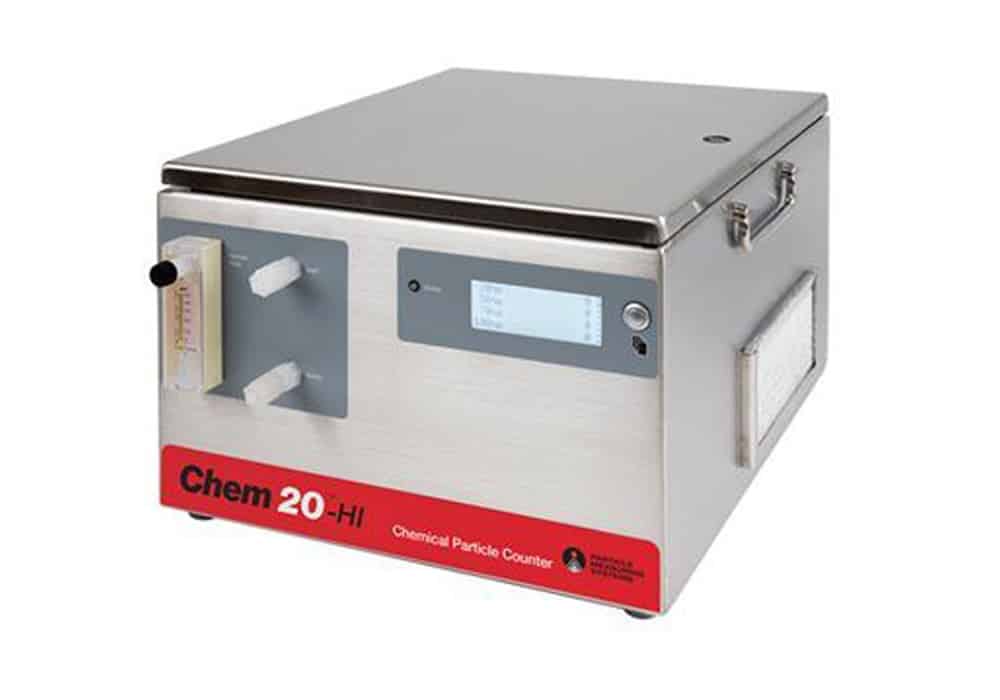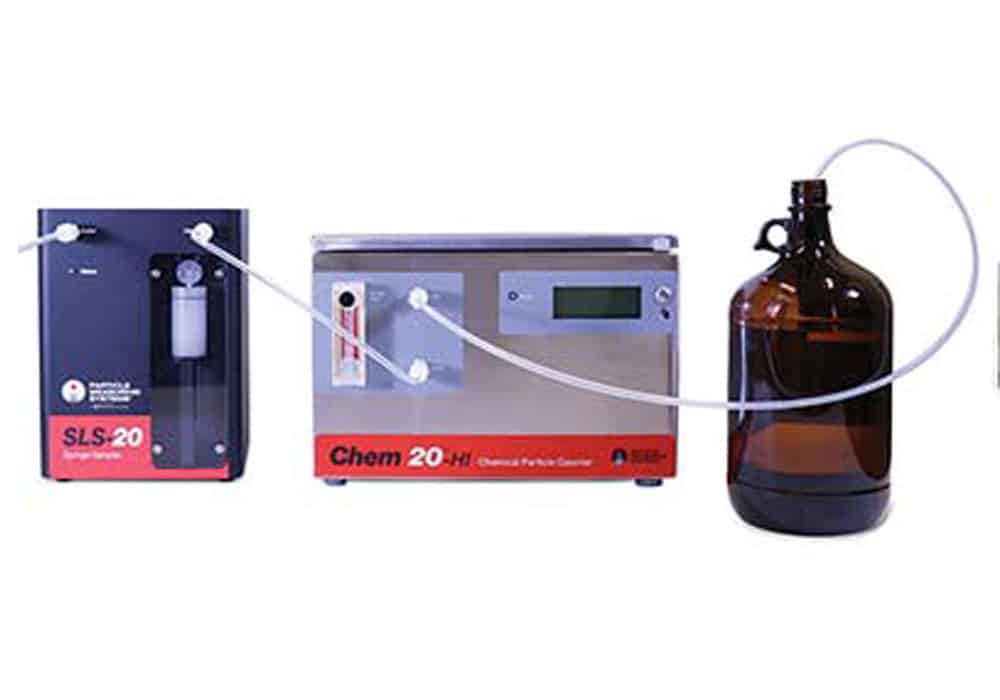 Features
20 nm Chemical particle counter now with 

Syringe particle sampling capability

Advanced laser optics and detectors enable 20 nm particle sensitivity in chemicals
On-board chemical flow meter to set sample flow
First chemical particle counter optimized for low and high refractive index chemicals for improved performance:

Chem 20 chemical particle counter, for chemicals with lower indices of refraction
Chem 20-HI chemical particle counter, tailored for sulfuric acid and other higher-index chemicals

On-board leak detection to provide alarm upon an internal chemical leak
Low-flow detector and alarm to ensure consistent data
Bubble detector to optimize data and protect sensor
Local data display
Benefits
Detect 20 nm PSL & 9 nm Au particles in real time
Now 20 nm testing is easily accomplished in both online and offline applications
Detect yield-limiting particles (not possible with competitive technologies)
React quickly to particle excursions long before surface scan or yield data are available
Optimize chemical delivery systems from the loading dock to point-of-process
Tighten process control limits through improved sample population statistics
Optimize instrument operation for very dirty or very clean applications using two view modes, extending product application space
Support legacy data acquisition systems with flexible communications
Applications
Real-time particle monitoring within chemical distribution systems
Point-of-process monitoring
Chemical packaging operations monitoring
Chemical filter performance and efficiency characterization
Chemical QA and verification
Performance testing of chemical handling components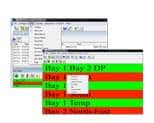 Facility Net
Facility Net Software provides a solution for comprehensive environmental monitoring, including a real-time and historical data display. Compatible with Particle Measuring Systems particle counters and molecular contamination monitors, as well as various third-party products.
Liquid Installation Kit
For use with online  applications, the Liquid Installation Kit includes: a Flaretek® flaring tool, five caps, 25 ft of 1/4 in Perfluoroalkoxy alkanes (PFA) tubing and male connectors.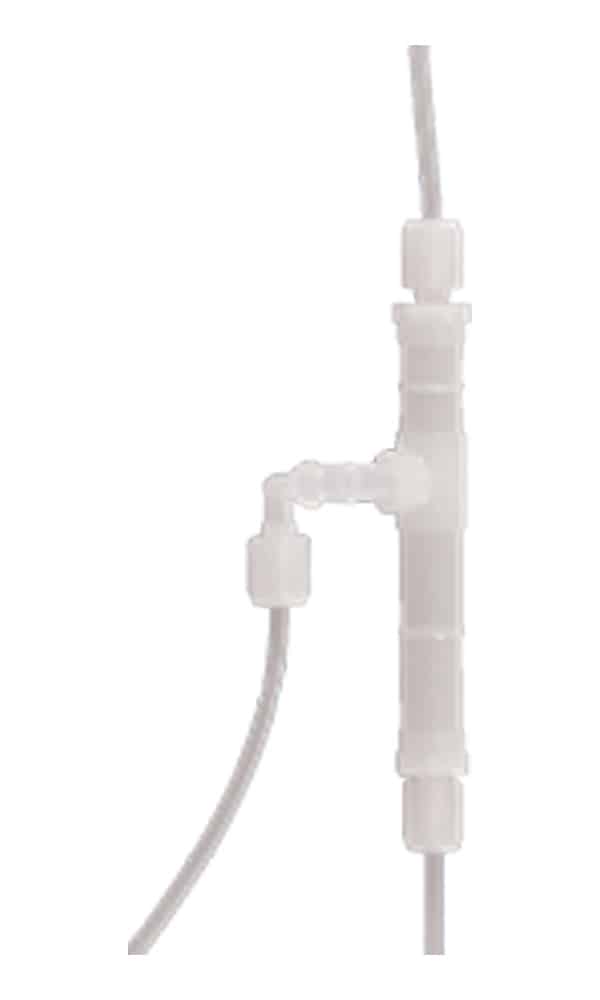 Bubble Separator Device
A welded PFA device that allows entrained bubbles in an ultrapure water (UPW) or process chemical sample to separate from the sample stream through buoyancy, prior to the sample entering the liquid particle counter.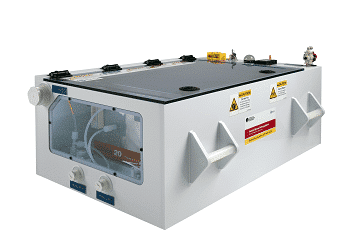 Particle Sensor Safety Cabinet
Houses the chemical particle sensor, detects chemical leaks with an external alarm, and provides secondary containment when a leak occurs. In the event of a chemical leak within the chemical particle counter or sample connections, the system will automatically detect the leak, shut off inlet and outlet sample valves, turn off power to the particle sensor, and provide an external alarm contact.