Syringe Liquid Particle Sampler: SLS
Models: 1040, 1100, 1200, 1300, 1500, 2000
The SLS Syringe Liquid Particle Sampler from Particle Measuring Systems uses a precision syringe and simple flow-path for delivering chemical samples from a sample vessel or chemical container, directly to the particle sensor. It is ideal for applications where precise, small-volume particle batch sampling is required, where the sampler device cannot contribute contamination to the chemical sample.
The system consists of a selectable syringe for either corrosive or non-corrosive liquids, a selectable particle counter for different sizing sensitivities, and batch-sampling software. The following SLS product systems are available:
Download Spec Sheet
Request a Quote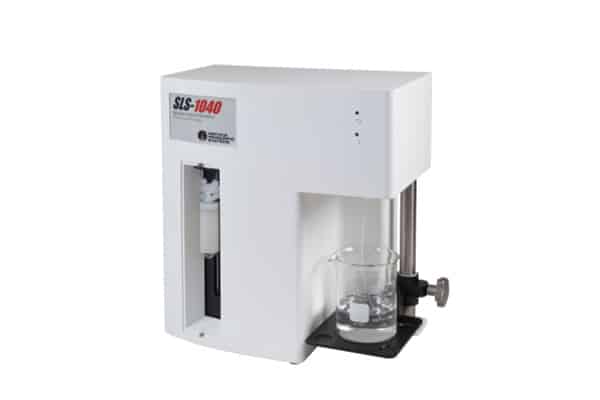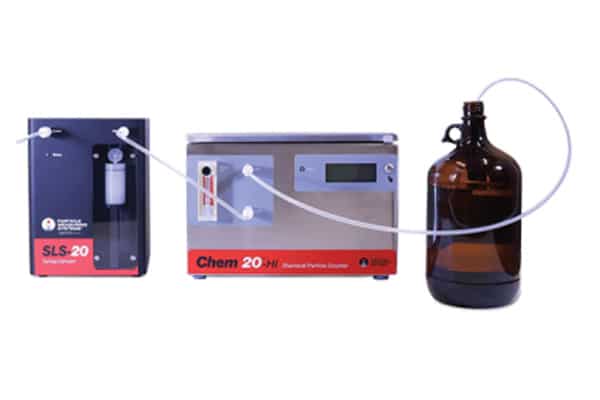 Particle Sampler Name

SLS-20

SLS-1040

SLS-1100

SLS-1200

SLS-1300

SLS-1500

SLS-2000

Particle Counter

Minimum Particle Size

20 nm

40 nm

100 nm

0.2 μ

0.3 μ

0.5 μ

100 μm

Particle Size Range

20 to 100 nm

40 to 125 nm

100 to 500 nm

0.2 to 2.0 μm

0.3 to 3.0 μm

0.5 to 20 μm

1.5 to 125 μm (E15) 2.0 to 125 μm (E20P)

# Size Channels

4

4

4

15

15

15

15

Instrument Flow Rate

35 ml/min

5 ml/min

20 ml/min

Sample Flow Rate

0.45 ml/min

2 ml/min

6 ml/min

20 ml/min

20 ml/min

20 ml/min

20 ml/min
Benefits
Precise particle measurement
Versatile – select various particle sensors and syringe sizes
Cost-effective
Easy-to-use
Small sample volume – eliminates sample waste
Applications
Diverse applications in semiconductor and process chemical manufacturing
Incoming quality measurement of process chemicals
Point-of-process monitoring on process tools
Testing and qualification of chemical components
Outgoing chemical qualification testing
Mechanical parts cleanliness testing
FAQs
What is the cleaning method for the SLS 1000? >
What is the floss cleaning method for the SLS 1000? >
Submit A Question
SamplerSight Pharma Software
Designed to collect data from the LiQuilaz Particle Sensor, SamplerSight Pharma Software controls syringe-operated samplers, allowing operators to manage sampling requirements for batch-based operations with a comprehensive view of the batch information.
SLS Cleaning Kit
Syringe Liquid Sampler cleaning kit
Spare Syringe (1ml-25ml)
Spare syringe for revision D and higher LS-200 and revision C and higher LS-50 samplers.
Magnetic Stirrer with Cable
Magnetic stirrer with cable for mixing samples during syringe sampling.
Liquid Particle Counter for Chemicals: UltraChem
100™
The UltraChem 100 Liquid Particle Counter gives you reliable contamination monitoring with the ability to detect particles as small as 10 nm in chemicals with high molecular scatter. 
The UltraChem® 40 Chemical Particle Counter from Particle Measuring Systems detect 40 nm particles in chemicals with high molecular scatter.
For batch sampling applications using Chem 20 and Chem 20-HI particle counters