UPS (Uninterruptible Power Supply) is an essential piece of equipment for any business or home user. Used for electronic devices such as PCs and servers that have an uninterrupted electrical connection 24 hours a day, seven days a week.
If there is a power outage, even a very brief one, the servers may become unreachable. Even data can be corrupted if the computer shuts down unexpectedly. This is when the UPS starts working. For example, when the power is cut off, they will switch to battery power seamlessly. Your devices will remain on and running until mains power is restored, or you can safely turn them off.
Currently, many people are working from home. So it becomes even more important to have the best UPS that fits your budget. When multiple power-hungry devices are plugged into the home power supply, power outages or surges may result. Your home probably won't have the same power backup solutions as the office. So buying a UPS for your home is a wise investment.
The UPS devices we recommend are for a variety of use cases. From a small UPS to a home that keeps routers and PCs running. To the UPS with large powerful for business use.
What is a UPS?
UPS stands for Uninterruptible Power Supply. The device acts as a battery backup in case of a power failure. Small UPS for homes and offices provide enough power for several minutes. So you can properly shut down the device without missing any work. Larger UPS systems can even last several hours. This type is often used for medium and large businesses.
How to choose the best UPS for you?
When choosing a UPS for yourself, start by considering whether you will be using it for your home or office. UPS machines are available in tower or rack-mount. To choose the right type, you should determine how much power your device requires and how long it will last after a power outage. If your device takes a few minutes to shut down, make sure the UPS system can provide enough runtime for it.
Best UPS of 2022
1. APC Back-UPS ES-BE700G
A simple UPS for voltage fluctuations
SPECIFICATIONS
Input voltage: 230V
Output capacity: 405 (watts)
Outlets: 8
Battery runtime: 13 mins (half load), 4 mins (full load)
Recharge time: 16 hours
Advantages: easy to use, with LED light
Defect: fewer features, long charging time
If you are looking for a low-cost, simple-to-use UPS device, the APC Back-UPS ES – BE700G is a great choice. We don't recommend it for large businesses with multiple computers and servers. It will provide power for homes and small businesses to keep their devices running during a power outage.
This UPS from APC has eight surge-protected power sockets. Four of them are covered by backup batteries. All eight sockets can use standard three-pin plugs. You'll have enough UPS sockets for your computer, monitor, and essential peripherals like an external hard drive or router. However, if you need a UPS with more features, you can consider another UPS.
2. APC BE600M1 Back-UPS 600VA
An excellent UPS for home use
SPECIFICATIONS
Input voltage: 120V
Output capacity: 330 (watts)
Outlets: 7 (plus one USB port)
Battery runtime: 10 mins (half load), 3.2 mins (full load)
Recharge time: 10 hours
Advantages: More power for home devices, small form
Defect: Not include a large number of ports, not powerful enough for big businesses
The BE600M1 is another great UPS from APC, ideal for home use. The device has a compact design and provides enough power for smaller devices. Such as home NAS drives, routers, and game consoles.
Although it has only one USB port, it has plenty of sockets with just enough spacing for you to easily connect multiple plugs. With careful control, you can keep power flowing to your router or display for long enough to get through most power cuts.
3. CyberPower CP1500EPFCLCD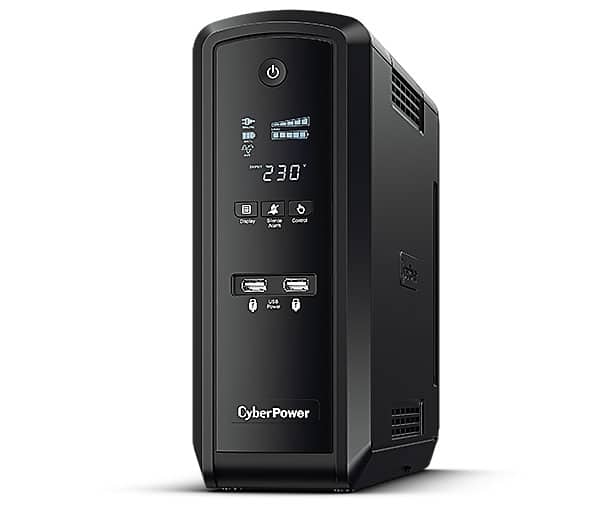 The best UPS for small and medium businesses
SPECIFICATIONS
Input voltage: 230 Vac
Output capacity: 900 (watts)
Outlets: 6
Battery runtime:10 mins (half load), 3 mins (full load)
Recharge time: 8 hours
Advantages: LCD panel, USB port included
Defect: high cost
The CyberPower CP1500EPFCLCD is a great UPS for homes and small businesses. It has a large number of ports such as USB, to plug in your devices. RJ11/RJ45 ports keep your phone, fax, and modem lines protected from power surges. Also comes with several energy-saving features to avoid waste in use.
Ideal device for keeping mid and high-end computer systems secure
Ideal for keeping mid and high-end computer systems safe, the UPS comes with Automatic Voltage Regulation (AVR) to ensure safe voltage levels for all devices that are connected. It has featured data line protection that protects communication and network equipment from power surges and spikes.
It also comes with a clear multifunction LCD that notifies you with alerts in case of power problems, and lets you check the battery condition, configure advanced settings, and perform self-tests.
A flexible UPS for business
SPECIFICATIONS
Input voltage:
21A
Output capacity:
230Vac
Outlets:
10
Battery runtime:
3.5 mins (full load)
Recharge time:
1.5 hours
Advantage: power efficiency feature, providing more power to many devices
Defect:
high cost, not suitable for home use
If you have a large office with several devices, the Eaton Eaton 9SX 5000i RT3U is a great device. This rack-mounted UPS keeps your devices running in a power failure event. It also offers some excellent power efficiency features. Energy usage (and associated bills) can be cut with up to 95% efficiency in online double conversion mode and 98% in high-efficiency mode.
The Eaton ABM battery management system uses a three-stage charging technique; to increase battery life by half.
Optional extended battery modules can be purchased for extended uptime (with up to 12 hot-swappable battery modules). The LCD interface provides accurate data on the UPS status for easy management. This is a UPS to consider if you have the budget.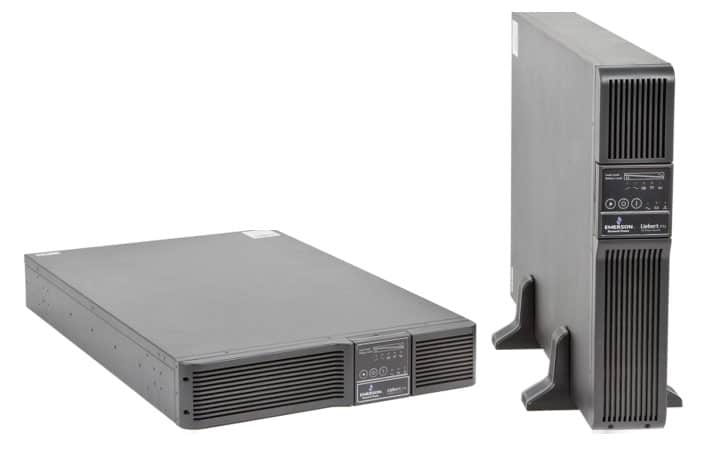 A powerful UPS for business use
SPECIFICATIONS
Input voltage: 300V
Output capacity: 1350 (watts)
Outlets: 8
Battery runtime: 9 mins (half load), 3 mins (full load)
Recharge time: 5 hours
Advantage: plenty of power, suitable charging time
Defect: exceed necessary for home use
If you have an office with many devices that require uninterruptible power, the Vertiv Liebert PSI 1500VA is an option worth considering. Three batteries will keep power-hungry devices running when power outages. And it can be mounted to a server rack or set up as a self-standing tower.
It has a rotatable LED display that can be adjusted based on the type of installation you choose. It is designed for IT infrastructure, like small server farms and network storage rooms.