Introduce APC Smart-UPS On-Line SRT10KRMXLI
SPECIFICATIONS APC Smart-UPS On-Line SRT10KRMXLI
Overview of APC Smart-UPS On-Line SRT10KRMXLI
Presentation: High density, double-conversion on-line power protection with scalable runtime.
Lead time: Usually in Stock
Main of APC Smart-UPS On-Line SRT10KRMXLI
Main Input Voltage:
230 V
400 V 3 phases
Other Input Voltage:
220 V
240 V
380 V
415 V
Main Output Voltage: 230 V
Other Output Voltage:
220 V
240 V
Rated power in W: 10000 W
Rated power in VA: 10000 VA
Output connection type:
6 IEC 60320 C13
3 IEC Jumpers
4 IEC 60320 C19
Output connector type: Hard wire 3-wire (H N + E) 1
Number of rack unit: 6U
Battery type: Lead-acid battery
Provided equipment:
CD with software
Documentation CD
Installation guide
Rack mounting hardware
Rack mounting brackets
Rack mounting support rails
Temperature probe
USB cable
Warranty card
Web/SNMP management card
General of APC Smart-UPS On-Line SRT10KRMXLI
Product web sub-family: High density
Number of power module free slots: 0
Number of power module filled slots: 0
Redundant: No
Physical of APC Smart-UPS On-Line SRT10KRMXLI
Colour: Black
Height: 26.3 cm
Width: 43.2 cm
Depth: 71.5 cm
Net weight: 111.82 kg
Mounting location: Front
Mounting preference: No preference
Mounting mode: Rack-mounted
Two post mountable: 0
USB compatible: Yes
Input
Network frequency: 40…70 Hz auto-sensing

Number of input connectors:
1 hard wire 3-wire (1P + N + E)
1 hard wire 5-wire (3P + N + E)

Input voltage limits:
100…275 V adjustable (half load)
173…476 V adjustable (half load)
Output
Maximum configurable power in W: 10000 W
Harmonic distortion: Less than 2 %
Output frequency: 50/60 Hz +/- 3 Hz sync to mains
Crest factor: 3 : 1
UPS type: Double conversion online
Wave type: Sine wave
Bypass: type Internal bypass (automatic and manual)
Maximum configurable power in VA: 10000 VA
Conformance

Product certifications:
CE
EAC
IRAM
RCM
VDE

Marking: CE Mark

Standards:
EN/IEC 62040-1:2019/A11:2021
EN/IEC 62040-2:2006/AC:2006
EN/IEC 62040-2:2018
Environmental
Ambient air temperature for operation: 0…40 °C
Relative humidity: 0…95 % non-condensing
Operating altitude: 0…10000 ft
Ambient air temperature for storage: -15…45 °C
Storage Relative Humidity: 0…95 % non-condensing
Storage altitude: 0.00…15240.00 m
Acoustic level: 55 dBA
Heat dissipation: 1947 Btu/h
IP degree of protection: IP20
Batteries & Runtime

Number of battery filled slots: 0

Battery recharge time: 1.5 h

Number of battery replacement quantity: 2

Battery voltage: +/- 192 V (split battery referenced to neutral)

Battery charger power: 876 W rated

Battery power in VAH: 1805 VAh runtime

Battery life: 3…5 year(s)

Replacement battery: APCRBC140

Battery option:
SRT192RMBP2 1 3610 VAh
SRT192RMBP2 2 5415 VAh
SRT192RMBP2 3 7220 VAh
SRT192RMBP2 4 9025 VAh
SRT192RMBP2 5 10830 VAh
SRT192RMBP2 6 12635 VAh
SRT192RMBP2 8 16245 VAh
SRT192RMBP2 10 19855 VAh

Extended runtime: 1
Communications & Management of APC Smart-UPS On-Line SRT10KRMXLI
Free slots: 1

Alarm: Audible and visible alarms : prioritized by severity

Emergency power off : Yes
Surge Protection and Filtering

of APC Smart-UPS On-Line SRT10KRMXLI
Surge energy rate: 480 J

Packing Units

Unit Type of Package 1: PCE
Number of Units in Package 1: 1
Package 1 Height: 46.1 cm
Package 1 Width: 60 cm
Package 1 Length: 100 cm
Package 1 Weight: 129.727 kg
Offer Sustainability
Sustainable offer status: Green Premium product
REACh Regulation: REACh Declaration
EU RoHS Directive:
Compliant
EU RoHS Declaration

Mercury free: Yes
RoHS exemption information: Yes
Environmental Disclosure: Product Environmental Profile
Circularity Profile: End of Life Information
WEEE: The product must be disposed on European Union markets following specific waste collection and never end up in rubbish bins
Optimized Energy Efficiency: Energy efficient product
Take-back: Take-back program available
Introduce APC Smart-UPS On-Line SRT10KRMXLI
APC Smart-UPS On-Line SRT10KRMXLI provides high-density, double-conversion, online power protection for servers, voice/data networks, medical labs, and light industrial applications. It is a versatile system that can support loads ranging from 1 kVA to 10 kVA in a rack/tower convertible chassis. The 6 kVA, 8 kVA, and 10 kVA models feature unity output power factor enabling them to support power-hungry blade servers or heavily loaded equipment racks. For situations where critical systems require runtime in hours rather than minutes, the Smart-UPS On-Line can be configured with multiple battery packs to meet demanding runtime requirements. To ensure smooth and controlled shutdown of network operating systems, the Smart-UPS On-Line includes PowerChuteTM Network Shutdown management software.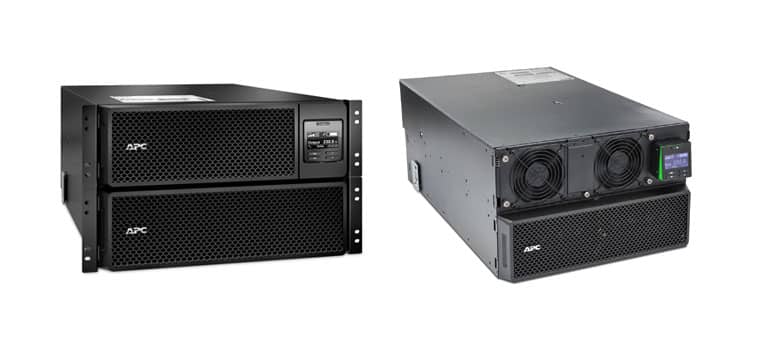 Features APC SRT10KRMXLI
Best-in-class power density
More real power in watts, 0.9 pf on 2.2 kVA – 5 kVA, Unity on 1-1.5 kVA unites and 6 kVA – 10 kVA units.
High-efficiency "green mode" of SRT10KRMXLI
Achieves 98 percent efficiency, which saves utility and cooling costs without compromising performance or reliability
Graphical LCD display with multicolor backlight
Intuitive interface provides detailed and accurate information with ability to configure locally.
Intelligent battery management
Temperature-compensated charging extends life and advanced algorithms recommend replacement date. The UPS can inform user which batteries need to be replaced and auto detect when additional battery packs are added.
Built-in energy meter
Measures energy use and displays UPS efficiency in various modes of operation for easy energy tracking.
Operate without battery
Ability to immediately protect equipment when power returns after a complete discharge of the battery.
Embedded network management card with environmental monitoring (5 kVA – 10 kVA models)
Remote monitoring and control of the UPS and the environment via Ethernet connection while freeing up the SmartSlotTM so customers can add accessories for additional  communication options.
Switched outlet group(s)
Ability to control a group of output load receptacles independent from the main UPS. Enables:
• Rebooting hung device without cyclingthe entire UPS
• Sequenced turn ON/OFF
• Shedding of noncritical loads based on a variety of parameters (battery time, runtime remaining, and overload)
• Scheduled time OFF to conserve energy
Emergency power off
Remote UPS shutoff in the event of a fire or other emergency. The UPS can accept normally open (NO) or normally closed (NC) contacts.
Communication ports
Serial, USB, Ethernet, and SmartSlot for network accessory cards.
Communication protocols
Modbus serial, USB PowerSummary, HTTP, SNMP, and Telnet.
1:1, 3:1 input hard-wire options
Product can be wired for 3-PH or 1-PH input (230 V, 8 kVA, and 10 kVA models only).
Dual input
Enables second input source to be connected to UPS bypass (230 V, 8 kVA, and 10 kVA models only).