DI Water Particle Counter: Ultra DI® 50
Sensitivity range: 0.05 – 0.2 µm
The Ultra DI® 50 Liquid Particle Counter is designed specifically for de-ionized (DI) water systems and will count and size contaminants as small as 0.05 μm. Larger sample volumes and ultra-low zero counts detect smaller excursions with more relevant statistical data, while shorter sample intervals speed up your analysis time. Respond immediately to contamination with real-time measurement of particles, and Save time with fast clean-up and the ability to move quickly from one sample point to another. Its low zero count, large sample volume and high counting efficiency provide unsurpassed performance.
Looking for industry leading 20 nm particle counting?
See the Ultra DI 20 particle counter.
Download Spec Sheet
Request a Quote
Features
Reliable Liquid Particle Counter
Low zero count
Large sample volume
Faster time to statisitically significant data
Compatible with 

FacilityNet Software

Utilizes existing network with ethernet communication
Connects directly to PLC and SCADA systems with 4-20 mA
Compatible with ozonated water
Stainless steel housing and dual HEPA filtration allow use in dirty environments
Benefits
FacilityNet Software provides more sophisticated process control
Set tighter process control limits with low sample-to-sample variation
Detect process variations more quickly with improved sensitivity
Applications
Quantifying particle concentration in state-of-the-art ultra pure water (UPW) systems
Filter efficiency measurements
Trending analysis at lower particle concentrations
Detecting bacterial growth in UPW systems
Episodic event tracking and alarming
Continuous system monitoring
Manufacturing process control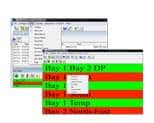 Facility Net
Facility Net Software provides a solution for comprehensive environmental monitoring, including a real-time and historical data display. Compatible with Particle Measuring Systems particle counters and molecular contamination monitors, as well as various third-party products.
Liquid Installation Kit
For use with online  applications, the Liquid Installation Kit includes: a Flaretek® flaring tool, five caps, 25 ft of 1/4 in Perfluoroalkoxy alkanes (PFA) tubing and male connectors.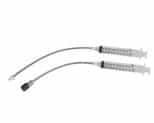 Capillary Cleaning Kit
The Capillary Cleaning Kit flushes capillaries with a Flaretek® adapter and contains: two 10cc syringes and two Flaretek® tube fittings.
Downstream Flow Controller
Complete flow control through a liquid particle counter is critical to ensure accurate and actionable data. The Downstream Flow Controllers, FC-200 and FC-100, are the perfect complement to our high precision liquid particle counters.