Testo 871 – Smart thermography for professional demands.
The testo 871 thermal imager offers a high-quality 240 x 180 pixel detector, connectivity via the testo Thermography App and numerous innovative functions. It fits comfortably in the hand and convinces with intuitive operation in a modern tile look.
For even more meaningful thermal images, the thermal imager also wirelessly integrates the measurement
values of the clamp probe testo 770-3 as well as the thermohygrometer testo 605i (both available as an option).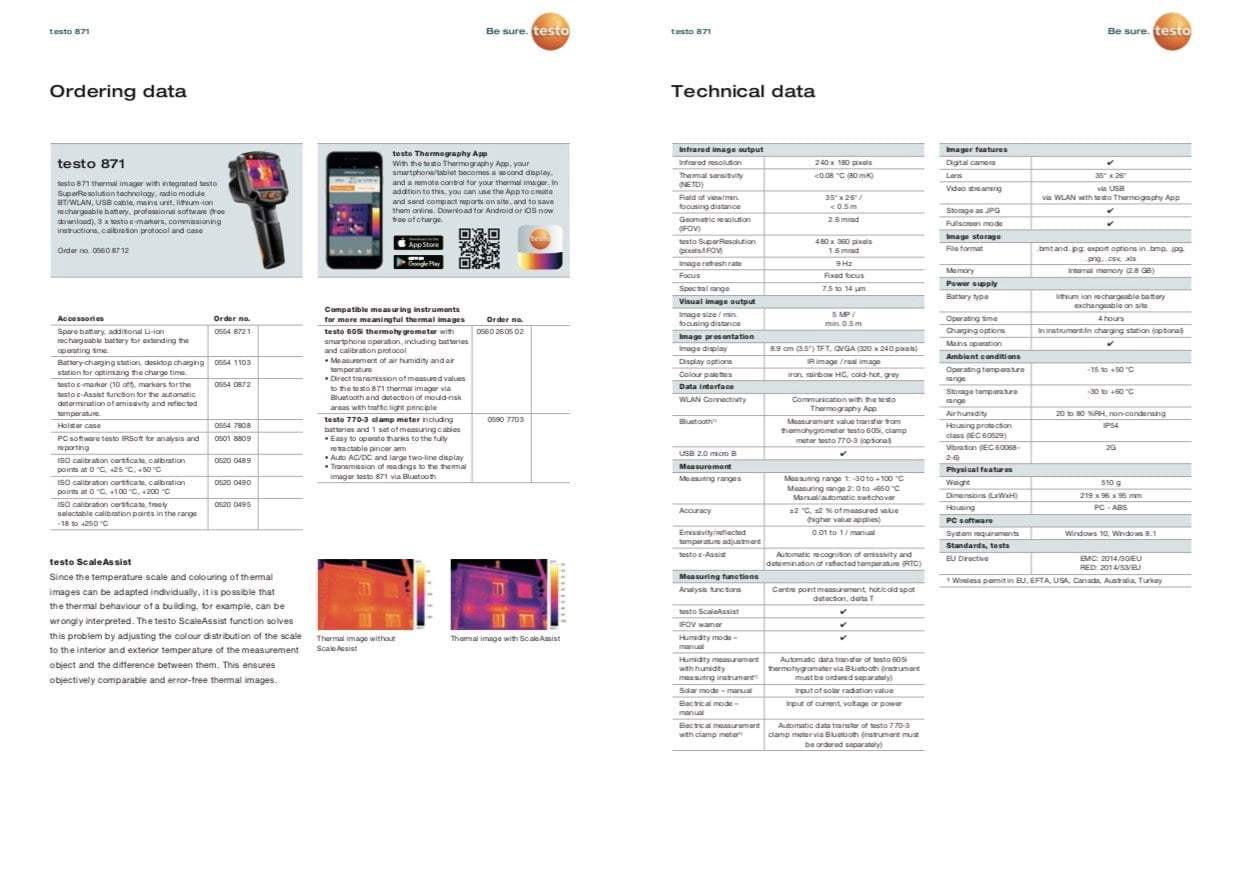 Features Testo 871
Very good image quality due to high resolution: 43,200 temperature measuring points for precise thermography. Infrared resolution of 240 x 180 pixels – extendible to 480 x 360 pixels via integrated SuperResolution Technology
Detecting temperature differences from 0.09°C
The testo Thermography App enables you to write reports on site, save them online and send them by e-mail, as well as allowing you to use mobile terminal devices as a second display or for remote control
Wireless communication thanks to Bluetooth – this means you can also wirelessly integrate the readings of the compatible testo 770-3 clamp meter and testo 605i thermohygrometer
Built-in digital camera generates a real image in parallel to the thermal image
Critical temperature conditions are directly displayed via automatic hot-cold spot recognition
The testo ScaleAssist automatically ensures optimum setting of the thermal image scale, which means you generate objectively comparable and error-free thermal images, for example the thermal insulation behavior of buildings
The testo ɛ-Assist ensures the correct measurement result by automatically determining and setting the emissivity and reflected temperature
The IFOV warner means the distance from the measurement object/measurement spot size is determined and the measurement spot is shown on the thermal image – you, therefore, avoid measurement errors because the camera shows you exactly what you can measure
Pro software for image evaluation on the PC
You can choose to save thermal images as JPEGs
Specifications Testo 871: Thermal Imager
Infrared image output

Infrared resolution
240 x 180 pixels
Thermal sensitivity
90 mK
Field of view
35° x 26°
Minimum focus distance
< 0.5m
Geometric resolution (IFOV)
2.6 mrad
SuperResolution (Pixel)
480 x 360 pixels
SuperResolution (IFOV)
1.6 mrad
Image refresh rate
9 Hz
Focus
Fixed focus
Spectral range
7.5 to 14 µm

Image output visual

Image size
at least 3.1 MP
Minimum focus distance
distance: 0.5 m

Image presentation

Display type
8.9 cm (3.5″) TFT, QVGA (320 x 240 pixels)
Display option
IR image / real image
Colours
4 (iron, rainbow, cold-hot, grey)

Measurement (Testo 871)

Measuring range
-30 to +100 °C; 0 to +650 °C
Accuracy
±2 °C, ±2 % of mv
Emissivity
0.01 to 1
Reflected temperature
manual
testo ε-Assist
Included

Measuring function

Solar mode – manual
Input of solar radiation value
Analysis function
Mean point measurement, hot/cold-spot recognition, Delta T
Electrical mode – manual
Input of current, voltage, or power
IFOV warner
Included
Humidity mode – manual
Included
testo ScaleAssist
Included
Humidity measurement with humidity measuring instrument
Automatic measurement value transfer of thermohygrometer testo 605i via Bluetooth (instrument must be ordered separately)
Electrical measurement with clamp meter
Automatic measurement value transfer of clamp meter testo 770-3 via Bluetooth (instrument must be ordered separately)

Imager equipment

Full-screen mode
Included
JPEG storage
Included
Video streaming
via wireless LAN with testo Thermography App
Standard lens
35° x 26°
Digital camera
Included
Interface
USB 2.0 Micro B
WLAN Connectivity
Communication with the testo Thermography App wireless module BT/WLAN (EU, EFTA, USA, AUS, CDN, TR)
Bluetooth
Measurement value transfer from thermohygrometer testo 605i, clamp meter testo 770-3 (optional) Wireless permit in EU, EFTA, USA, Canada, Australia, Turkey

Imager storage

File format image
.bmt; export option in .bmp; .jpg; .png; .xls; .csv
Storage device
Internal Memory (2.8 GB)

Power supply

Battery type
Fast-charging, Li-ion battery can be changed on-site
Operating time
4.0 h
Mains operation
yes

Ambient Condition (Testo 871)

Air humidity
20 to 80 %RH non-condensing
Housing protection class
IP54
Vibration
2G
Storage temperature
-30 to +60 °C
Operating temperature
-15 to +50 °C

PC software

System requirements
Windows® 10; Windows® 8; Windows® 7

General technical data

Product color
Black
Display ligthing
bright / normal / dark

Physical specification

Product-/housing material
PC – ABS
Weight
510 g
Dimensions
219 x 96 x 95 mm